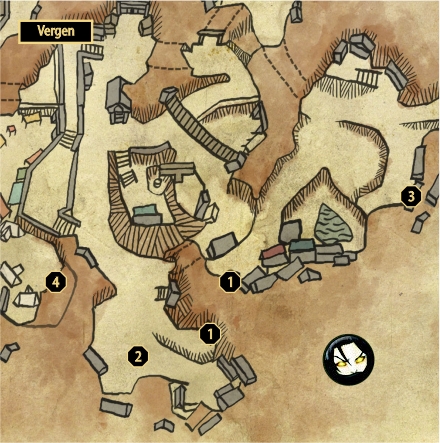 Did we miss anything in this section? Is there something we didn't discover? Let us know!
Background
During the quest
Royal Blood
, you'll have to gather evidence which will help you judge Stennis. This quest is automatically received if you talk to the human peasantry right in the thick of the conflict in the town hall (
#1
).
Walkthrough
After talking to the peasant, you'll learn that the suspect peasant, a friend of theirs, is being guarded by Scoia'tael at
#2
. He'll be reluctant to talk at first, but after using either Axii or intimidation attempt, he'll tell you what he knows about the attempt on Saskia's life. He overheard a suspicious conversation between Stennis and the priest Olcan (who was killed by Henselt back in the beginning of the act). He'll then point you to Olcan's house, as it may contain clues.
To learn where the house is, talk to Cecil who's found at
#3
. He'll tell you where Olcan used to live (
#4
). Once you head over there, you'll find his notes. They seem to be depicting a schematics for a goblet of some sort, the one that was forged in
Suspect Thorak
quest. To conclude this quest though, you'll have to solve that quest as well.
After you find Olcan's receipt in Thorak's locker, this quest is done and you'll receive 1000 experience points.
1 - Human peasantry in the town hall
2 - Willy Oblate
3 - Cecil Burdon
4 - Olcan's house