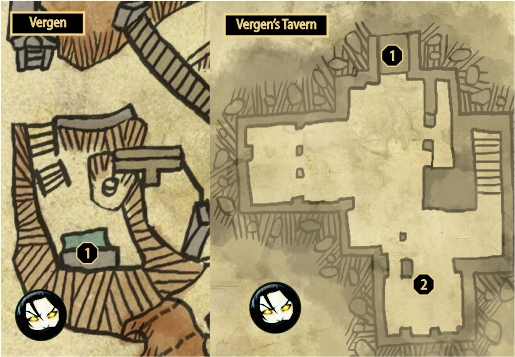 Did we miss anything in this section? Is there something we didn't discover? Let us know!
Background
Just like in the first act, Vergen has organized fights in its tavern (
#1
). Win the tournament and gain the title of local champion.
Walkthrough
To get started, talk to Sheridan who can be found at
#2
. in front of the fighting mass. You'll learn that both peasants and noblemen fight each other in the same category, as long as there is money to be earned. Anyway, your first opponent in the series is Young Zis, and you can bet from 5 to 20 orens. After you defeat him, talk to Sheridan again and he'll set you up against your next opponent, Stel Placeholder. This time the bets go from 25 to 50 orens.
When you fight your last opponent, Percy Boruk, you can bet from 40 to 60 orens. Once you win though, a nobleman from Vergen, Sir Silgrat, will approach you, saying that it's easy to fight all the peasantry and taunts you into fist fighting him too. He wants to be known not just as Seltkirk's brother, but also every witcher's worst nightmare.
If you lose, he'll leave and there won't be anything special after that. If you win though, you'll open up a quest
A Score To Settle
, which is completed automatically. You can meet Silgrat in Act III, but he won't have to say much.
You'll also receive 100 experience points.
1 - Tavern
2 - Fighting lot