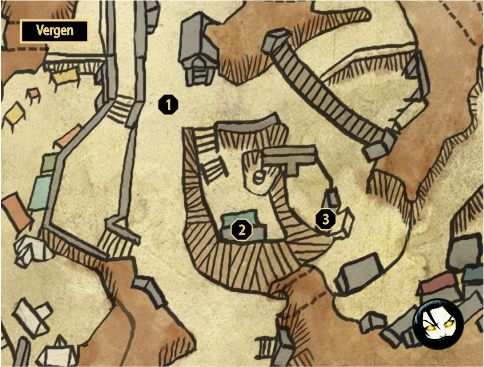 Did we miss anything in this section? Is there something we didn't discover? Let us know!
Background
Back in Act I when you defeated Zoltan, he told you to arm wrestle his mates Yarpen and Sheldon if you ever come across them. Now's your chance to prove your strength with them as well. It is automatically received the first time you're in Vergen (
#1
), but can only be completed after doing
Subterranean Life
.
Walkthrough
You can start with either of the two, Yarpen or Sheldon. Both of them are located in the tavern (
#2
). While challenging Yarpen you'll also learn that he beat Zoltan before, but Zoltan omitted telling you that. Anyway, after beating him, you'll get 25 experience points. Defeat Sheldon too, who's moving around in the tavern as well.
After wrestling them, your final opponent will be Skalen Burdon, alderman's nephew. He's found in his house at
#3
. Once you defeat him, he'll tell you about the Mighty Numa, who you'll meet in Act III. This quest is completed and you'll again additional 50 experience points.
1 - Arrival in Vergen
2 - Yarpen & Sheldon
3 - Skalen Burdon