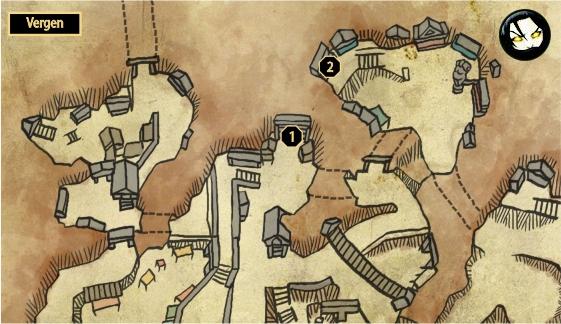 Did we miss anything in this section? Is there something we didn't discover? Let us know!
Background
This quest covers the healing of Saskia and frames the quests
Hunting Magic
,
Where is Triss Merigold?
,
Subterranean Life
and
Royal Blood
.
Walkthrough
It starts along with the other main quests right after The War Council is finished (
#1
). Since Saskia was poisoned, Philippa will need to cure her and tasks witcher to bring her various rare ingredients which are acquired in other quests. After you've done:
-
Hunting Magic
(acquired a magical crystal with dragon's dream)
-
Where is Triss Merigold?
(found a rose of remembrance)
-
Subterranean Life
(located herb Immortelle)
-
Royal blood
(obtained a vial of monarch's blood)
you'll be able to progress with this quest. Go to Philippa at her house (
#2
) and hand her all the ingredients. She immediately get to work and you'll instantly move to Saskia's home at
#1
. Enjoy the cutscene and afterwards Saskia will recover. During your conversation with her you'll ask her for her sword (
Hatred Symbolized
) and she'll gladly give it to you as you need it to remove the mist. This quest is therefore concluded.
1 - Philippa (in front of Saskia's house)
2 - Philippa (in her house)