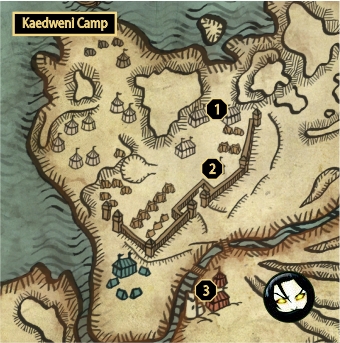 Did we miss anything in this section? Is there something we didn't discover? Let us know!
Background
Once again, Geralt is ready to pilfer gold from dice pokers, but this time in Kaedweni camp. The quest starts from the two practitioners of the art over at
#1
in front of the cantina.
Walkthrough
In your first step, you'll have to beat both Gondor and Fragile (
#1
). They'll also tell you about other prominent players, but they won't play you because they are masters. Next on the line is Zyvik, the corporal soldier in the camp who stays at Lasota's (
#2
). As soon as Zyvik's down, Madam Carole is your next opponent. She can be found at the brothel camp over at
#3
. Once you defeat her, she'll send you to the camp's best dice poker, Lasota (
#2
).
As usual, roll your dice and let the luckier player win. As a reward, you can choose something else than coin instead, the leather designs: Diagram: Leather, Diagram: Studded Leather or Diagram Hardened Leather. The quest is then completed, though no experience points are earned.
1 - Gondor & Fragile
2 - Zyvik & Lasota
3 - Madame Carole