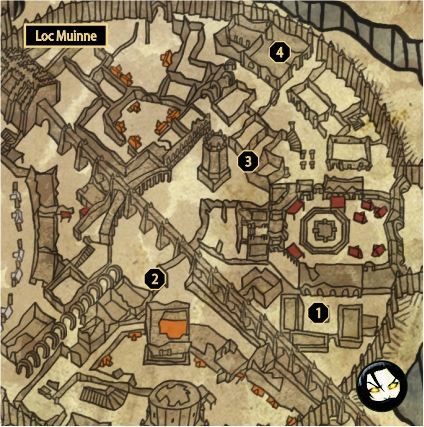 Did we miss anything in this section? Is there something we didn't discover? Let us know!
Background
While exploring the ruins and magically active areas during the quest
The Gargoyle Contract
, you'll come across a strange tome in the southeastern ruins (
#1
).
Walkthrough
An expert in the field of magic tomes, Bras of Ban Ard (
#2
) will be able to tell you the origins of the scroll. To unlock it, he'll need several rare ingredients of the beasts that do not even inhabit this area. If you've been following this guide from Act I, you'll remember that it's been said to keep queen endrega's pheromones and warrior nekker's blood.
Besides those, you'll need a brain of a bullvore and either rotfiend's tongue or harpy's egg. You can get brain of a bullvore from the sewers. There are two bullvores in the area around the exit located at
#3
. You might even have slim chances at getting the egg from the harpies at the beginning of the act, or you can check the walls around
#4
.
If you have all the ingredients, visit Bras again and hand them over. Quest is completed here and you'll gain 50 experience points. He'll be able to unlock the manuscript and give you a diagram for the best steel sword in the game,
Caerme
. Be sure to craft the sword after the dialog, materials are rather common.
1 - Southeastern ruins, manuscript
2 - Bras of Ban Ard
3 - Sewer entrance to a pair of bullvores
4 - Harpies