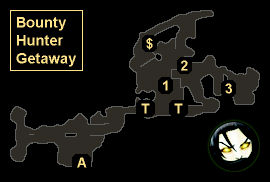 Did we miss anything in this section? Is there something we didn't discover? Let us know!
Background
You'll receive this quest from Mistress Selby's quest board at the
Docks
, but only after completing the quest
Underground Railroad
.
Walkthrough
For this quest you'll need to rescue an apostate mage from a group of bounty hunters. You'll find the mage -- and the bounty hunters -- in the Bounty Hunter Getaway on the western side of the
Wounded Coast
. You'll have to defeat several bounty hunters, including two assassins and a commander (#1), to reach the apostate (#2), but when you do, she'll thank you for your help, and she'll flee the cave (never to be seen again). Then when you return to Mistress Selby at the
Docks
, she'll reward you with 1 sovereign and 750 xp.
1 - Bounty Hunter Battle
2 - Apostate Mage
3 - Corpse
On this corpse you'll find a
Ring of the Seven Watchers
.
T - Trap
$ - Locked Chest
Exits:
Exit to the Wounded Coast.