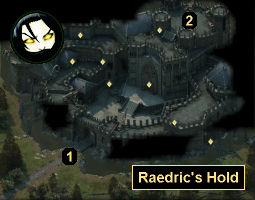 Did we miss anything in this section? Is there something we didn't discover? Let us know!
Background
You'll receive this quest from a frightened villager inside the Celestial Sapling inn in
Hearthsong
, but only if you sided with Kolsc and killed Raedric during the quest
Lord of a Barren Land
.
Walkthrough
The frightened villager will tell you that Raedric has come back from the dead, and that he wants to fight you in a duel. You'll find Raedric waiting for you on the roof of
Raedric's Hold
(#2). If you don't want to walk all the way up there to meet with him, then you should agree to be escorted there by the fampyr at the drawbridge (#1).
Raedric will be a fampyr now, and he'll have a handful of fampyrs and fampyr guardians with him. If you have a priest (like Durance) with you, then this is a good place for a Prayer Against Treachery, to protect your party from being charmed by the fampyrs. Otherwise, you should just knock off the fampyrs one at a time, and then gang up on Raedric at the end.
When Raedric dies, he'll drop an
Exceptional Sword
and the unique plate armor
He Carries Many Scars
. You'll also earn an "extraordinary" amount of reputation with
Gilded Vale
.
1 - Fampyr
2 - Raedric