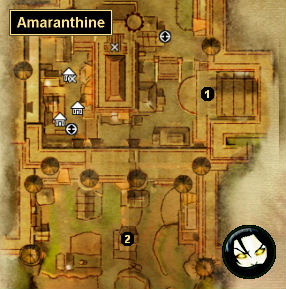 Did we miss anything in this section? Is there something we didn't discover? Let us know!
Background
You'll receive this quest when you loot a
Discarded Letter
from a chest in
Knotwood Hills
.
Walkthrough
From the letter, you'll learn that many years ago a treasure-hunter named Darran Lyle discovered something in
Knotwood Hills
, and then took it to
Amaranthine
to sell it. To learn more about Lyle, you'll need to head to the chantry in
Amaranthine
(#1) and check out their records (located in a shelf in the back). The records will indicate that Lyle moved into a small house outside of town (#2), and lived there for several years before dying.
When you investigate the house, you'll discover some packed earth next to it. Inside the dirt you'll find a
Ring of Subtlety
, and picking it up will complete the quest and earn you 750 xp.
1 - Chantry of Our Lady Redeemer
2 - Lyle's House