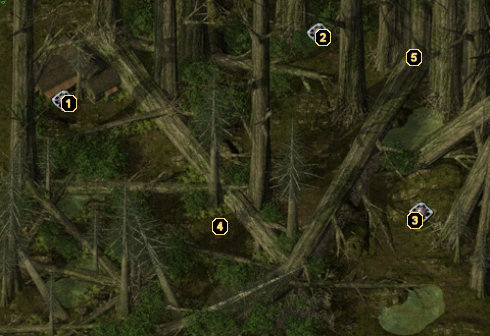 Did we miss anything on this map? Is there something we didn't discover? Let us know!
1 - Coran
Here you encounter Coran and if you are nice to him, you receive a very short quest to help save his love. All that is involved is traveling over to area #2. All of the downed trees makes wandering around this area a bit of a pain, though.
2 - Werewolf Camp
Within the Werewolf camp you'll discover Safana, Coran's love. She tries to convince the wolves to destroy you, which results in a short and rather easy battle with the Werewolves. Nothing significant happens, but its worth the easy experience.
3 - Hidden Cave
Nestled within the trees here, you'll find a cave. Inside, you'll be able to loot yourself the
Mana Bow +4
, which definitely makes traveling here worthwhile.
4 - Wyvern Battle
A Greater Wyvern and two Wyvern worshippers. It's a pretty easy battle, although it has no apparent purpose.
5 - Exit to Suldanessellar
This is the entrance to the
Elven City of Suldanessellar
. You will need to obtain the Rynn Lanthorn from Bodhi's Lair and return it to Elhan in the
Elven Camp
before being able to access the city, however.