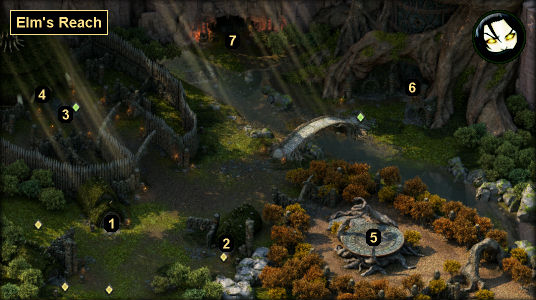 Did we miss anything in this section? Is there something we didn't discover? Let us know!
Overview
1 - Residence
Hidden in the floorboards here you can detect
Starlit Garb
. The task
The Sealed Missive
might point you to it. Also in the residence you can grab some
Camping Supplies
from a crate.
2 - Residence
You'll find the unique belt
Nature's Embrace
in a shelf in this residence, but you'll have to steal it to pick it up.
3 - Arthwn
Arthwn is involved in the quest
Hunter, Brother
.
4 - Hall of Warriors
The Hall of Warriors is the home of the Three-Tusk Stelgaer tribe. Inside the hall you'll meet Simoc. He'll give you the quest
Sacrificial Bloodlines
.
5 - The Golden Grove
On or around the platform here you'll meet Bledha, Iswld and Tamrwn. Only Bledha will play much of a role in the game. She'll sell you potions and ingredients, and she's also involved in the quest
Sacrificial Bloodlines
.
6 - Teir Evron
The first time you approach Teir Evron, you'll be stopped by the delemgan sisters Sidha and Rihenwn. This is a part of the quest
The Assassin at Large
. No matter what you say to the sisters, they'll allow you to go inside. Teir Evron itself is involved in the quests
Council of Stars
,
Into the White Void
,
The Nest Above the Clouds
,
The Old Queen and the New King
, and
A Servant of Death
.
7 - Blood Sands
Blood Sands is the home of the Ethik Nol, the druidic order that sacrifices willing victims to produce
Flasks of War Paint
. You'll meet lots of chanters, keepers, and supplicants in the area -- including some with names -- but only three are important:
In the middle of the area, you can also detect a loose brick that will open up a secret room. Inside the room you'll find two trapped chests containing
Blood Testament
, a random magical item, some
Flasks of War Pants
, and more.