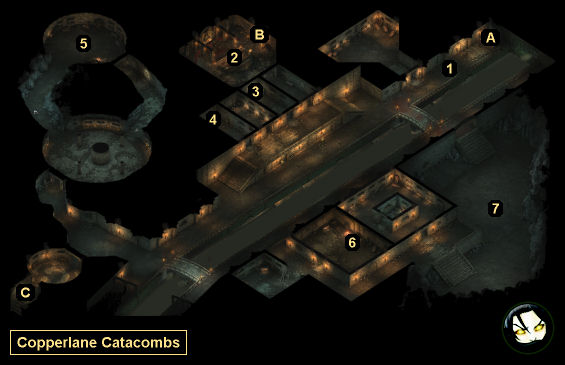 Did we miss anything in this section? Is there something we didn't discover? Let us know!
Overview
1 - Dead Initiate
You'll discover a dead initiate of Woedica here, and when you examine his soul, you'll learn that he was killed by a troll. You'll meet the troll on the nearby bridge to the south.
2 - Secret Theater
You'll only gain access to this theater during the quest
The Final Act
. To open the door connecting it to the rest of the catacombs, you'll need to detect a floor plate in the theater.
3 - Trapped Sarcophagus
Inside this sarcophagus, you'll find a random magical item.
4 - Trapped Sarcophagus
Inside this sarcophagus you'll find
Fine Mail Armor
.
5 - Helig of Thein
Helig of Thein is involved in the quest
A Voice from the Past
. Near Helig in a crate you'll find a
Tarnished Locket
. The locket might look like it should be a quest item, but it's not used for anything.
6 - Eorn
Eorn is involved in the task
Unwanted
. He'll drop
Rabbit Fur Gloves
if he dies. You'll also find
Camping Supplies
in a nearby vase.
6 - Corpse
On the corpse here you'll find a
Woedica Hood
, which you can use as a disguise in the
Temple of Woedica
(Exit C).
Exits
Stairs up to Copperlane.
Stairs up to Lumdala's house in Copperlane.
Stairs down to the Temple of Woedica.