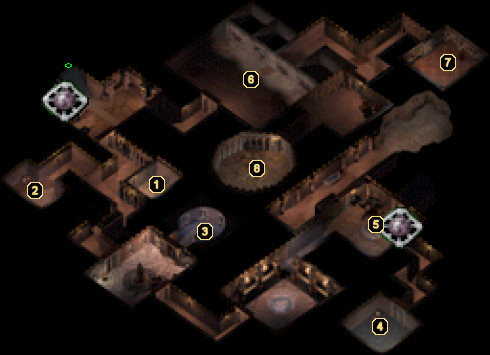 Did we miss anything on this map? Is there something we didn't discover? Let us know!
1 - Lever
You'll need to pass through a secret door to get into this room, but you'll be able to pull a lever that opens the door to area #2 once you're inside.
2 - Mithril Tokens
After pulling the lever in area #1, you can enter this room. After dispatching the monsters, grab the Mithril Tokens... you'll need them for area #8.
3 - Paintings, Tokens, and a Minotaur Horn
This room has a pond in the middle and three statues along the wall. You can grab a Mind Flayer painting, a minotaur horn, and some Mithril Tokens in the pond, and a Troll, Umber Hulk, and Djinni painting from each of the statues. The statues are trapped, however, so use caution. These paintings are used to open the rooms in area #6. The horn is used to open the door in area #5. The tokens are used for area #8.
4 - Minotaur Horn and Tokens
You can find one of the minotaur horns needed to open the door at area #5 in this room, along with some more Mithril Tokens.
5 - Minotaur Statue
There is a statue of a minotaur here. You will need both minotaur horns (from areas #3 and #4) in order to open the door in this room. The door leads up to the
Asylum Tests
area.
6 - Painting Doorways
There are 4 "doors" in this room, each requiring a painting from area #3. If you have the appropriate painting, you can pass the door. You will fight a Mind Flayer in one room (which drops the
Flame of the North
), a Troll in one room (which drops
Malakar +2
), and an Umber Hulk in one room. The third door leads down a hallway to areas #7 and #8.
7 - Gesen Bow String
This room has a chest and some Golem guards. Open the chest, then fight the Golems. Inside the chest, you'll be able to grab yourself some more Mithril Tokens for area #8 and the Gesen Bow String, which is used to construct the
Gesen Short Bow
.
8 - Token Machine
There is a very strange machine in the middle of this room. You can put Mithril Tokens into it to obtain different items. If you put 5 tokens in the machine, you'll get a pair of
Boots of Grounding
, 10 tokens will get you
Boots of the North
, 15 tokens will get you
Boots of Speed
, and 20 tokens will get you the
Jester's Chain +4
.