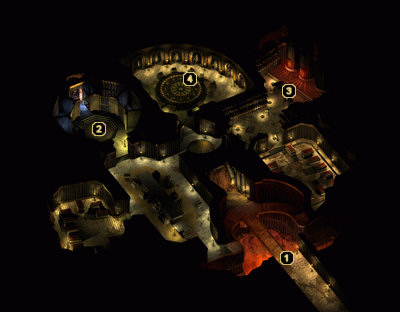 Did we miss anything on this map? Is there something we didn't discover? Let us know!
1 - Arrival
A massive ambush awaits your party just a few paces from the level's entrance. You'll be facing Drow Sorcerers, Drow Spellswords, Phase Spiders, and numerous Orc Elites and Neo Orog Marauders. Try to draw a couple of them at a time or your party will most likely suffer a casualty or two.
When the dust settles, check the Drow Sorcerer and Spellsword corpses to uncover two
Daggers +1
and two
Long Swords +1
.
2 - Drow Battle
Two Drow Vanguards and three Drow Spellswords will confront your party here. All five Drow are carrying
Long Swords +1
and the Vanguards wear
Chainmail +1
, so be sure to plunder all of the corpses once the battle is over.
You'll also notice a cave at the far end of the room. This leads to
Krilag's Caves
, which you should explore before passing through the secret door at area #4.
3 - Drow Battle
This room contains two Drow Vanguards, two Drow Spellswords, and a Drow Sorcerer, so prepare accordingly. Aside from the standard magical equipment that each Drow carries, you'll discover a small stash of items at the back of the room -
Mithral Field Plate Armor +2
, the
Axe of Caged Souls
, a
Heavy Crossbow of Accuracy
, ten
Bolts of Lightning
, and ten
Bolts of Biting
.
4 - Dwarven Meeting Hall
This is the room Bandoth mentioned if you brought him the Container of Razorvine Extract back in
Upper Dorn's Deep 1
. It is an old meeting hall for the dwarves with a large circular table at its center and several statues embedded in its walls. A secret door can be found behind the center statue, which will bring you party to the
Dwarven Puzzle Room
.