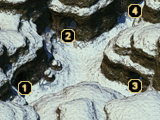 Did we miss anything on this map? Is there something we didn't discover? Let us know!
1 - First Arrival
After zoning out of the northeast corner of
Wyrm's Tooth
, your party will arrive here.
2 - Second Arrival
Once you've obtained Dugmaren's Key from Kerish in the
Aquatic Museum
, you can use it to unlock the central door in the
Lower Museum Entrance Hall
. Entering the tunnel beyond the door brings you to this location.
3 - Exit
Once you have obtained Joril's Badge, you can enter
Lower Dorn's Deep
via this cave.
4 - Exit
Using this exit will allow you to travel to any location marked on your world map. Stopping by
Kuldahar
to get resupplied or paying a visit to Larrel in the Severed Hand's
Labelas Tower
to show him Evayne's Journal are two good reasons to leave this frozen tundra for awhile.