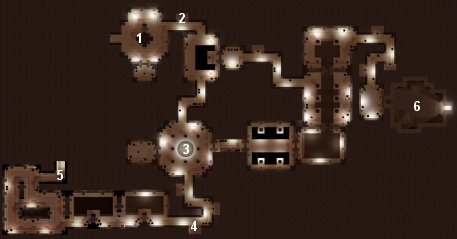 Did we miss anything in this location? Is there something we didn't discover? Let us know!
RELATED QUESTS
Defeat Kaedin
(Continued)
1 - ENTRANCE
Filled with Rage Golems, Mind Flayers, Gargoyles, and a wicked demonic spider called a Bebilith, the West Grand Hall can prove to be a tough level to make your way through. Come prepared.
2 - MYSTICAL WILL FOUNTAIN
Although the initial wave of attacks is fairly difficult, this mystical will fountain can turn the tides if you have a heavy spellcasting hero in your party.
3 - DRAINING POOL
Identical to the pool you were forced to pass by in the East Grand Hall, this thing will fire balls of energy that home in on your character and drain mystical will upon each hit. Dodge past as quickly as possible.
4 - HEALTH FOUNTAIN
Pay a visit to the health fountain in the alcove along the lower wall to replenish any lost hit points.
5 - ALTERNATE ENTRANCE
You'll arrive at this location if you exited the East Grand Hall via area #6.
6 - BEBILITH & EXIT TO SHADOW SPIRE 1
Your progress toward the first Shadow Spire comes to a standstill as a large demonic spider called a Bebilith reveals itself in this final room. This gigantic creature has a troop of smaller spiders around it at all times and attacks with a nasty bite as well as a web that reduces your movement immensely.
Try to avoid the smaller spiders and concentrate all your attacks on the Bebilith until it finally drops to the ground. Once victorious, head through the exit to the Shadow Spire 1.