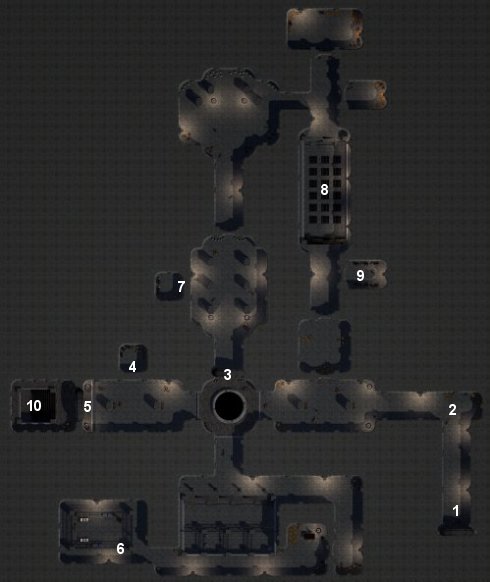 Did we miss anything in this location? Is there something we didn't discover? Let us know!
RELATED QUESTS
Find the Fourth Sceptre
(Area 9)
Open the Sceptre Door
(Area 5)
1 - ENTRANCE
The final sceptre is close at hand, which will allow you access to the Portals. Press on through this Dungeon area filled with various monsters, secret areas, and traps.
2 - DESTRACHANS
This spot will mark your first encounter with a Destrachan, a hook-handed monster that will provide a somewhat difficult battle, especially if you're being assaulted by Drow casters as well.
3 - LOCKED DOOR
You won't be able to pass through this door until you've obtained the Mark of the Guards from area #6.
4 - SECRET AREA
Search the wall here between the two statues to reveal another secret area filled with a few skeletons and plenty of loot.
5 - LOCKED DOOR
This door leads to the Dungeon's exit (and ultimately, to the Portals), but you'll first need all four sceptres to open it. The fourth and final sceptre can be acquired at area #9.
6 - MARK OF THE GUARDS
This whole area is densely populated with Drow and traps, so be extremely careful to avoid being overwhelmed. Your objective is to take out as many of the spell-slinging Drow as you can, then make your way to the back of the cells. Here, you'll find a lever that will open the cell that holds the Mark of the Guards. Snag it, then use it to open the door at area #3.
7 - SECRET AREA & SOUL SHARD #6
Make sure you search this wall as you make your way through the columns, as it hides another secret area that happens to contain the sixth Soul Shard of the game (in addition to a health fountain, mystical will fountain, and more treasure).
8 - GRATE TRAPS
The floor of this hallway is comprised of several sets of grating that will periodically issue poison steam. It's not very difficult to dodge your way through if playing solo, but things might get a bit crazier if you have a few friends adventuring along with you. If crossing as a group, my only recommendation is to make sure you all move at the same time.
9 - FOURTH SCEPTRE
Alas, the fourth and final sceptre sits atop a pedestal in this small room. Once it's in your possession, you will have finished the "Find the Fourth Sceptre" quest, but you'll gain a new one called "Open the Sceptre Door". Head to area #5 for a quick completion of this quest, as well.
10 - EXIT
This exit will bring you to the Portals, an area filled with gateways to other worlds.