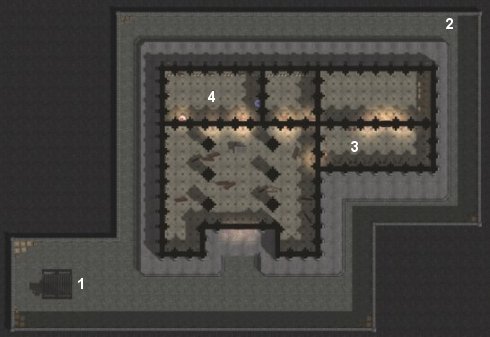 Did we miss anything in this location? Is there something we didn't discover? Let us know!
RELATED QUESTS
Find the Third Sceptre
(Area 4)
Return to Rik with Third Sceptre
(Area 4)
1 - ENTRANCE
As with the rest of the castle, the Church of Pelor is overrun by trolls and Drow. However, you're also going to be up against several Mind Flayers, so be cautious as you make your way through.
2 - SECRET AREA AND SOUL SHARD #5
Search this wall to reveal a secret area, complete with plenty of treasure and the fifth Soul Shard of the game. If you've located the first four with the same character, you've now earned enough Soul Shards to upgrade your Ancestral weapon.
3 - LEVER AND MIND FLAYERS
These three rooms offer some difficult battles with Mind Flayers, but there's no avoiding them. Once you've cleared them out, flip the lever in this room to open a passageway to area #4.
4 - THIRD SCEPTRE
If you thought the previous Mind Flayers were tough, you're going to be in for an even tougher fight in this room. The leader of the mind-flaying pack (a glowing Mind Flayer) guards the third sceptre, so hammer him with everything you've got to earn it. Once it's in your possession, head back to Rik to show him the artifact.