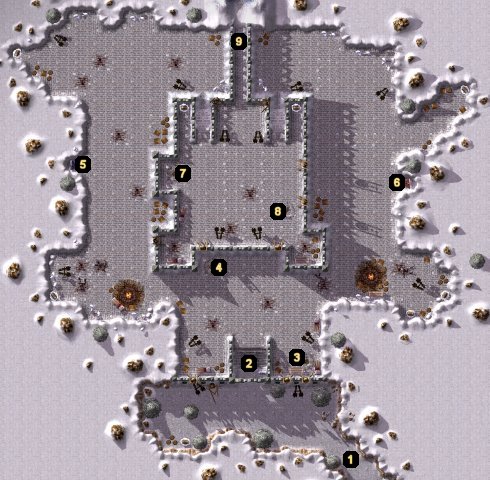 Did we miss anything in this location? Is there something we didn't discover? Let us know!
RELATED QUESTS
Destroy the Frost Worm
(Continued)
Find the Five Gems
(Continued)
Find the Cask of Winters
(Area 8)
Return the Cask of Winters
(Area 8)
1 - ENTRANCE
Several secret areas and another Soul Shard await you in the fortress, so charge forward and take out all barbarians in your way.
2 - FORT PORTCULLIS
The battles start getting a little tougher when you enter the fortress itself, as the barbarians will begin drinking Berserk Brew potions to help increase the potency of their attacks. Charge up these stairs and head to the right to reach the first secret area.
3 - SECRET AREA & SOUL SHARD #15
Make sure you step into the hole in this area to find yourself a nice assortment of loot and the fifteenth Soul Shard of the game (meaning an Ancestral Weapon upgrade if you've found them all up to this point).
4 - SECRET AREA
Head down the tunnel here to scavenge yet another secret area full of loot!
5 - MYSTICAL WILL FOUNTAIN
If you're running low on mystical will, head to the left wall and stand by the fountain until you're replenished.
6 - HEALTH FOUNTAIN
Follow the right wall to find another fountain that will keep your health topped off.
7 - SECRET AREA
Before dropping down into another secret chamber, you'll have to fight a Frost Giant, which can prove to be a problem if you're not prepared. Close range can mean a quick death from the giant's gargantuan axe.
8 - SECRET AREA
Not only does this hole reveal a secret chamber full of treasure, but you can also grab the Cask of Winters, the item Zyn from the Dragon's Tankard is searching for.
9 - EXIT TO MOUNTAIN PASS
Once you've visited all four secret areas, make your way to this exit to continue to the Mountain Pass.