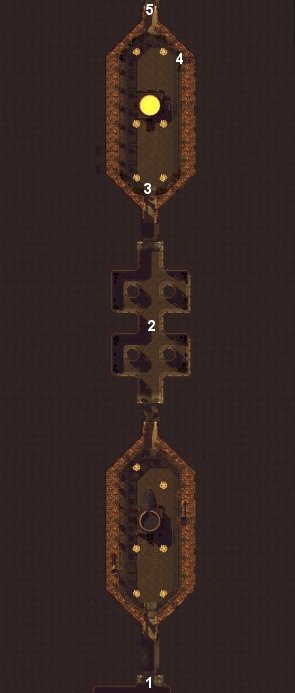 Did we miss anything in this location? Is there something we didn't discover? Let us know!
RELATED QUESTS
Find Laundra
(Continued)
Find the Five Gems
(Continued)
1 - ENTRANCE
The Smelters introduce you to a new breed of fiery monsters: Magma Golems. Not only do they pack a good punch in melee range, but they also hurl balls of magma that can inflict some serious damage. Hit them with cold-based attacks as you make your way through the area.
2 - DIAMOND #3
You'll need to maneuver through the four pillars in this section (which shoot out bursts of flame), as well as dodge the attacks of a few Magma Golems. Make your way toward the middle of the section to snag the third diamond and then continue on your way.
3 - SOUL SHARD #11
Resting atop the catwalk is the eleventh Soul Shard of the game. In order to reach it, though, you must first exit to the Cooling Room at area #5 and use the catwalk exit to return to area #4.
4 - CATWALK ENTRANCE
You can only reach this area from one of the exits in the Cooling Room. Once you do, however, you'll be able to ascend up on the catwalk and score the tenth Soul Shard of the game at area #3.
5 - EXIT TO COOLING ROOM
Take down the large glowing Magma Golem with old fashioned brute force (and some cold-based magic, if you have it) and then exit to the Cooling Room.