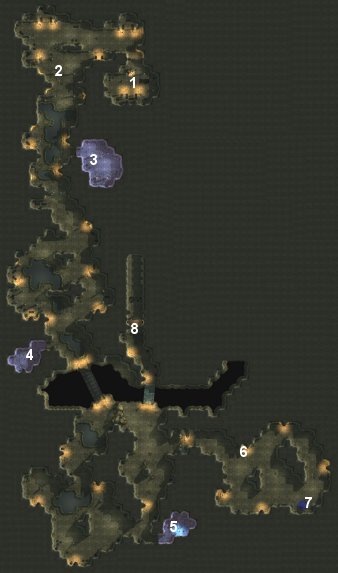 Did we miss anything in this location? Is there something we didn't discover? Let us know!
RELATED QUESTS
Find the Soul Shard
(Continued)
Find the Ankh of Evernyre
(Continued)
1 - ENTRANCE
You'll arrive from the upper crypts at this location, where you'll meet up with Vasak once again. He will offer to sell you some equipment, including some skeleton keys, which you may want to consider buying.
2 - TRAPS
At this point, you'll have to start being more cautious, as there are quite a few fireball traps that pop up from out of the floor. They're fairly easy to dodge, unless you're surrounded by hobgoblins.
3 - SECRET AREA
Similar to the secret areas in the upper crypts, this hidden room will provide you with some additional treasure.
4 - SECRET AREA
Be sure to snag the loot in this hidden room, but be careful dispatching the exploding barrels outside.
5 - SECRET AREA
Yet another secret area for your ransacking pleasure.
6 - SOUL SHARD #1
Make sure you explore the wall in this area, as you'll find your very first Soul Shard. For every five Soul Shards you find, your Ancestral weapon will transform into an upgraded version.
7 - MYSTICAL WILLPOWER FOUNTAIN
Replenish your Mystical Will by simply moving in close proximity of the fountain.
8 - EXIT
Head down this long corridor to exit the middle crypts and proceed to the lower crypts.