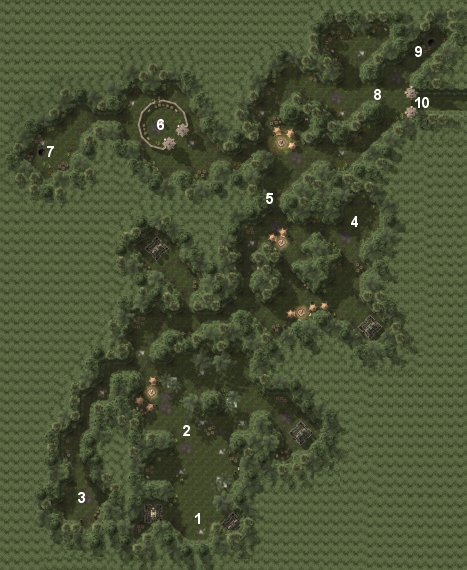 Did we miss anything in this location? Is there something we didn't discover? Let us know!
RELATED QUESTS
Rescue the Priestess
(Area 1)
Find the Crown
(Area 5)
Harvest Bella Note
(Area 7)
Find the Five Gems
(Continued)
1 - YUAN-TI WOMAN
Before beginning your journey through the Yuan-ti Wilds, you'll first be brought to a cutscene with a young Yuan-ti woman. She will explain that the evil Yuan-ti King has captured their priestess and will ask for your help in freeing her. To aid you during the rescue, she'll present you with the Serpent's Ring, which will reduce the amount of damage you take from poison.
2 - YUAN-TI CAMP
Once you reach this point, several of the evil Yuan-ti will slither from the upcoming camp and attack. Dispatch them, then loot the camp for any treasure you can find.
3 - HEALTH FOUNTAIN
A whole batch of evil Yuan-ti and spiders will assault you in this clearing, but if you hover around the health fountain you're practically invulnerable. Take them out, replenish your health, then head back the way you came.
4 - MYSTICAL WILL FOUNTAIN
If you filled your bar full of health at area #3, but are still low on mystical will, head into this clearing for another replenishing fountain.
5 - ANOTHER QUEST
You'll once again run into the Yuan-ti woman from area #1, and this time - you guessed it - she'll hit you up for another quest. It appears that the evil Yuan-ti King has stolen the Serpent's Crown, which the priestess needs to channel power from her god. You're asked to find the crown and return it to its rightful place at area #6.
6 - BURIAL GROUND
This monument marks the location of where the evil Yuan-ti King stole the Serpent's Crown. Once you've retrieved the crown at the end of the Yuan-ti Wilds, you'll want to return it to this spot to rake in a large amount of experience points.
7 - SECRET AREA
Head down the snake hole at the end of this pathway to reveal a secret area full of treasure ripe for the taking. In addition, you can scour the hidden area for the Bella Note, which can be brought back to the Dragon's Tankard for a reward.
8 - DIFFICULT BATTLE
You may want to prepare a bit before hitting this intersection, as you'll be assaulted by several Yuan-ti, including a glowing one that'll sustain a lot of damage before being brought down.
9 - SECRET AREA & SOUL SHARD #8
Once you've bested the large Yuan-ti at area #8, be sure to hit this snake hole to find another secret area full of treasure and the eighth Soul Shard of the game.
10 - EXIT TO KING'S FORT
With two quests obtained in the Wilds, it's time to head onward to the King's Fort.