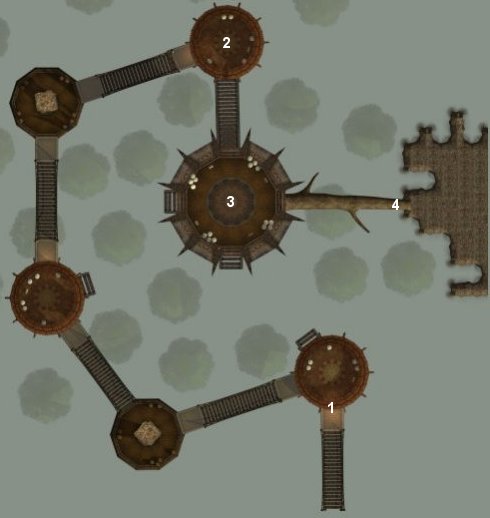 Did we miss anything in this location? Is there something we didn't discover? Let us know!
RELATED QUESTS
Rescue the Priestess
(Area 3)
Find the Crown
(Area 2)
Find the Five Gems
(Continued)
1 - ENTRANCE
Now that you've reached the Inner Sanctum, you're finally nearing the end of the Yuan-ti Wilds. Press forward through the Yuan-ti guards and make your way to area #2.
2 - YUAN-TI KING
Just before you reach area #2, you'll witness a cutscene showing the Yuan-ti king slither into this room with two large Yuan-ti guards. Prepare yourself as best you can, then head inside for a very tough battle with the three. Once the king drops, snag the Serpent's Crown from his corpse for the quest you received from the Yuan-ti woman back in the Wilds and head to area #3.
3 - YUAN-TI PRINCESS
At last, you've found the Yuan-ti Princess and have freed her from the clutches of the Yuan-ti King (completing yet another quest). She'll tell you about the Yrthak, a powerful beast that is immune to her magic, and ask you to destroy it. Of course, you really don't have a choice, so bite your tongue and proceed to the right along the pathway to the Yrthak's Bluff.
4 - EXIT TO YRTHAK'S BLUFF
Make sure you're prepared for a difficult "boss" battle, because you'll be instantly attacked once you exit the Inner Sanctum.