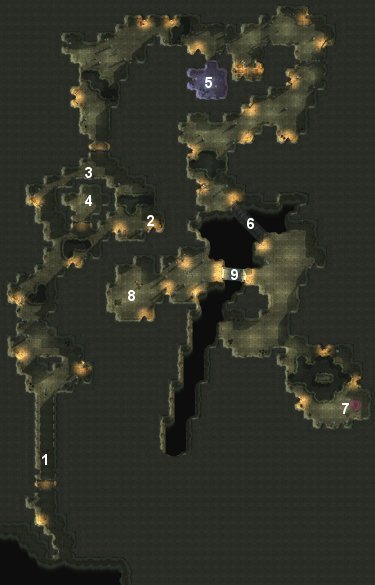 Did we miss anything in this location? Is there something we didn't discover? Let us know!
RELATED QUESTS
Find the Ankh of Evernyre
(Area 4)
Find Vasak
(Area 4)
Go to Castle Baele
(Area 6)
1 - TRAPPED ENTRANCE
The entrance to the lower crypts is staggered with traps, so save your game at the warp point before making your way further in.
2 - LEVER
Flip the lever in this corner to open the door to the room containing the Ankh of Evernyre. You won't be able to grab the Ankh, however, until you've pulled the other lever at area #3.
3 - LEVER
Smash the barrels and flip the lever, which will disarm the flaming ring around the Ankh of Evernyre. However, you'll still need to flip the lever at area #2 in order to open the door to the room.
4 - ANKH OF EVERNYRE
Once you've flipped both switches at areas #2 and #3, you'll be able to snag the Ankh of Evernyre without a problem. You'll finish two quests, but you'll be given a third to find Vasak and return the Ankh.
5 - SECRET AREA AND SOUL SHARD #2
Don't miss this hidden room! Inside is plenty of loot and the second Soul Shard of the game.
6 - VASAK'S DEMISE
You'll meet up with Vasak once again while traversing this bridge, and he'll offer a Silver Skull Key in exchange for the Ankh to get you out of the crypts and on to Castle Baele. The trade doesn't go as planned, however, as he is pierced by several Hobgoblin arrows. Once the cutscene finishes, grab the key and avenge his death.
7 - ITEM PEDESTALS AND HEALTH FOUNTAIN
Dispatch the Hobgoblins in this area, then grab the Ring of Meditation, Rod of Miracles, Elixir of Dragons, and Cat's Grace Elixir atop the pedestals. If you're low on health, move to the fountain to be replenished for free.
8 - EXIT
Once you've defeated all the spiders in the area, head down the exit to proceed to the Bulette Lair.
9 - SKULL GATE
Use the Silver Skull Key that Vasak dropped to open the gate on this bridge, then cross over (although you'll probably want to hit area #7 for the loot). Once on the other side, be prepared for a fairly tough fight with a Giant Spider.