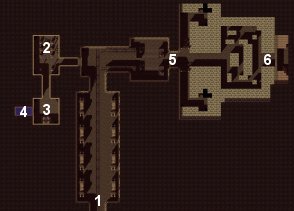 Did we miss anything in this location? Is there something we didn't discover? Let us know!
RELATED QUESTS
Find the Cage Key
(Area 2)
Find Laundra
(Area 2)
Find the Five Gems
(Continued)
1 - ENTRANCE
Other than the "boss" encounter, this is your final area in the Metalworks. Press on, taking out all resistance as usual.
2 - LAUNDRA & DIAMOND #5
Toward the back of the room, you'll find that Laundra is being held captive in a large cage. Speak with her and she'll tell you that the Fire Giant Chieftain at area #3 holds the key to the cage, which will grant you another quest.
Once the key is in your possession, you can release Laundra from the cage, after which she will provide you with the fifth diamond as a reward.
3 - FIRE GIANT CHIEFTAIN & SOUL SHARD #13
This large brute holds the key to Laundra's freedom, so you have to take him down. If you think he's too much, a good strategy to use is to run into area #4 and utilize the health fountain while you fight him. Once bested, he'll drop the key to Laundra's cage, which will effectively complete a pending quest. Before heading back to Laundra, though, snag the thirteenth Soul Shard of the game on his throne.
4 - SECRET AREA
Grab all the treasure in this secret area and use the health fountain to replenish lost hit points.
5 - IRON GOLEM
Prepare yourself for your first encounter with an Iron Golem. These gargantuan metal constructs make for a tough fight, but they are somewhat susceptible to ice based attacks.
6 - EXIT TO RED DRAGON LAIR
After dispatching of a few more Iron Golems (including a large glowing one, as usual), head through this door to battle the "boss" of the Metalworks, a large Red Dragon. If you cannot open the door, you'll need to backtrack and recover the remaining diamonds since all five are needed to continue on.