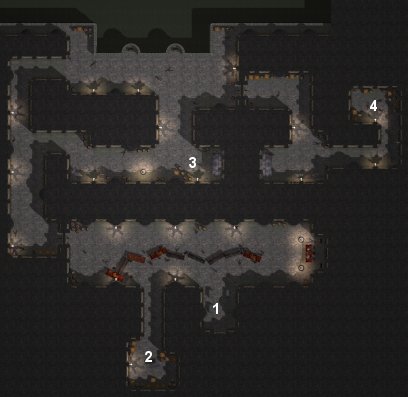 Did we miss anything in this location? Is there something we didn't discover? Let us know!
RELATED QUESTS
Find the Missing Keys
(Continued)
1 - ENTRANCE
This small hallway marks your entrance into Castle Baele's Great Hall, which has been completely overrun by trolls, drow, and spiders. Save your game at the warp point and then proceed to battle.
2 - SPIDER INFESTATION
A small room, perhaps, but it's packed with spiders and treasure to be looted. Take them out and ransack the area.
3 - FURNACE AND LEVER
A blazing furnace is embedded into the wall here. Don't go too close or you'll suffer some fairly decent fire damage. Smash the barrels along the lower wall and flip the lever to shut off the furnace and claim the loot inside.
4 - MASSIVE TROLL AND LEVER
Your adventure through the Great Hall concludes here, where you'll come face-to-face with a very large troll. Take him out and then snag the Treasury Key you came here to find. Additionally, you can flip the lever in this room to shut off the furnace down the hall from where you came. Once flipped, search the now bearable furnace for treasure.