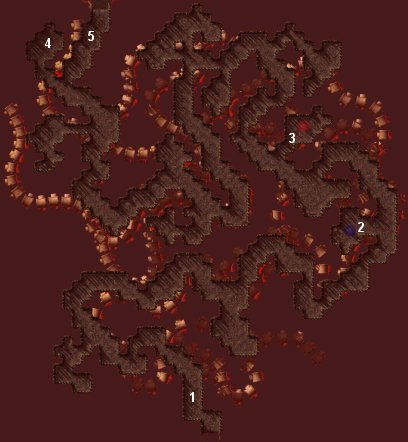 Did we miss anything in this location? Is there something we didn't discover? Let us know!
RELATED QUESTS
Find the Five Gems
(Continued)
Defeat Kaedin
(Continued)
1 - ENTRANCE
The Bone Bridge is a labyrinth of blood and bones, filled with undead and traps. Proceed cautiously, using your on-screen map to help determine where you have and haven't been.
2 - MYSTICAL WILL FOUNTAIN
Before you can drink from the fountain, you'll first have to dispatch of a bone naga, a slithering undead creature that can hit you with both movement reduction and poison attacks.
3 - HEALTH FOUNTAIN
This health fountain should come in handy while you battle the two bone nagas guarding it, so make sure you keep a close proximity during the fight.
4 - SOUL SHARD #18
Don't miss the left fork, which contains the eighteenth Soul Shard of the game. Finally, a decent reward for all the undead you've had to dispatch.
5 - EXIT TO LICH'S LAIR
Having made it through the maze, head down this path to the Lich's Lair.