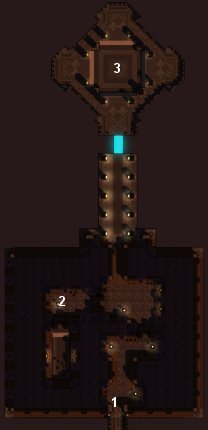 Did we miss anything in this location? Is there something we didn't discover? Let us know!
RELATED QUESTS
Defeat Kaedin
(Area 3)
1 - ENTRANCE
Save your game at the Warp Point and prepare your character as best you can. The final battle of the game is soon at hand.
2 - HEALTH AND MYSTICAL WILL FOUNTAINS
Replenish any health and mystical will you've used up battling the fiends on the first few platforms. You may even want to backtrack to these fountains just before reaching area #3.
3 - FINAL BATTLE WITH KAEDIN
This is it - the final battle of the game. Kaedin won't hold anything back this time, though. Not only does he have a sword and magic at his disposal, but he'll also use the power of the five gems against you as well.
Watch the button near Kaedin's health throughout the battle to determine which gem he's using at the time:
Red (Gem of Fire) - allows Kaedin to surround himself with a damaging ring of fire.
Green (Gem of Nature) - allows Kaedin to poison you with his attacks and damage anyone in melee range with a plague of insects.
Light Blue (Gem of Ice) - allows Kaedin to fire bolts of frost and create a ring of damaging cold.
Dark Blue (Gem of Wind) - allows Kaedin to throw a force of wind that will inflict damage and knock you back.
Purple (Gem of Death) - allows Kaedin to fire a bolt of negative energy and a wave of bats that will steal your health and heal him.
The only way to defeat Kaedin is to drop his health to zero for each gem that he wields, and then once more for his regular form (so six times total). Once you finally do so, Kaedin will fall and the ending cinematics will be well worth the trouble. Congratulations on winning the game!