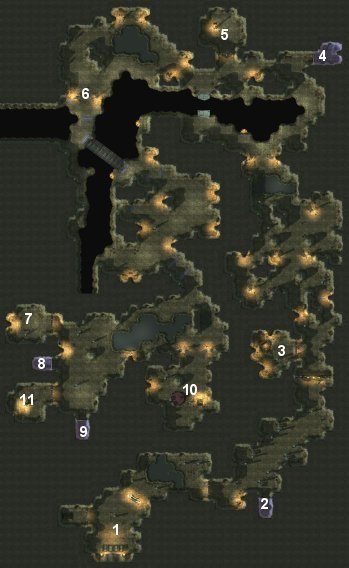 Did we miss anything in this location? Is there something we didn't discover? Let us know!
RELATED QUESTS
Find the Soul Shard
(Area 3)
Find the Ankh of Evernyre
(Area 6)
1 - BEGINNING
After choosing your hero and watching the opening cinematics, you'll begin the game here. To your northwest are the stairs to the tutorial, if you feel you need it. If not, then continue on.
2 - SECRET AREA
Make sure to smash your way through the wall to reveal this hidden area.
3 - HEAD CLERIC
The head cleric who originally resurrected you stands in this room. He'll tell you about your Ancestral Weapon and that you need to collect Soul Shards in order to increase its power. He'll provide you with a quest to find the first soul shard here in the crypts.
4 - SECRET AREA
Smash through this wall and you'll find some more hidden loot.
5 - ROGUE'S NECROPOLIS
Use a skeleton key to open the door to the Rogue's Necropolis. Dispatch the skeletons and snag the treasure within.
6 - VASAK
Here you'll meet Vasak, the old caretaker of the crypts. He'll explain that there has been a lot more Hobgoblin activity lately and that they're most likely after the Ankh of Evernyre. If you obtain the Ankh before they do, he'll show you the way out of the crypts.
7 - CLERIC'S CATACOMBS
A sizeable amount of loot can be found in the Cleric's Catacombs, so unlock the door to this area with a skeleton key and then take out the undead that reside here.
8 - SECRET AREA
Another secret area to ransack.
9 - SECRET AREA
Yet another secret area to ransack.
10 - EXIT
A passageway leading to the second level of the Baele Crypts can be found here. Additionally, pay a visit to the fountain nearby to replenish your health for free.
11 - KNIGHT'S CRYPT
Head through the door to this room using a skeleton key and plunder it for all it's worth.