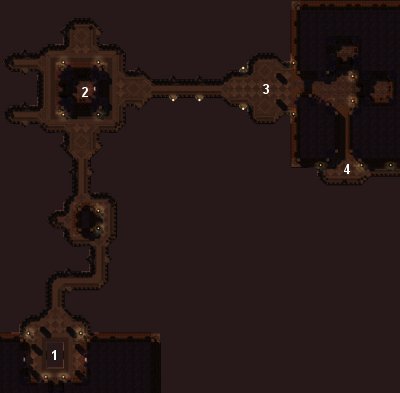 Did we miss anything in this location? Is there something we didn't discover? Let us know!
RELATED QUESTS
Defeat Kaedin
(Continued)
1 - ENTRANCE
The first of three spires here in the Shadow Keep stretches before you, chock full of Gargoyles, Osyluths, Skeletons, and your first battle encounter with Kaedin.
2 - TREASURE PILES
Take out the Osyluth resistance and then scour the area in the middle to find several piles of gold and other treasure. Once you've picked all the loot up, prepare yourself for the first battle with Kaedin just down the pathway at area #3.
3 - KAEDIN
The former shopkeeper has grown tired of you causing havoc in his keep and shows himself once again. Underestimating your power, Kaedin will foolishly attack you using only his sword. This shouldn't be much of a battle for you, but be cautious nonetheless. After sustaining a certain amount of damage, Kaedin will teleport away, leaving you to continue through the keep.
4 - EXIT TO SHADOW SPIRE 2
With your first battle encounter with Kaedin behind you, continue through this exit to reach the second Shadow Spire.