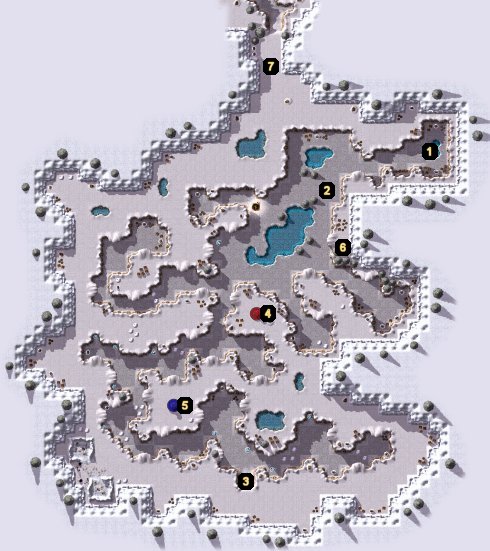 Did we miss anything in this location? Is there something we didn't discover? Let us know!
RELATED QUESTS
Destroy the Frost Worm
(Area 1)
Destroy the Ice Golems
(Area 1)
Find the Five Gems
(Continued)
1 - ICE SORCERESS
When you first enter the Ice Fields, you'll enter dialogue with an ice sorceress who will explain that she wants to defeat the Frost Worm that resides in the area. She apparently summoned several ice golems to fulfill the task, but they have rebelled against her. She asks you to defeat all twenty ice golems and the Frost Worm, which gets you two more quests.
2 - ICE GOLEM
Your first encounter with one of twenty ice golems. You can always tell when one is about to spawn if you watch for a pile of snow on the ground. They're fairly difficult, especially when you cause two to spawn, but can be an easier fight if you use fire attacks.
3 - PATHWAY TO UPPER LEVEL
Tired of navigating the Ice Fields from the lower level? Here's the pathway to the upper section.
4 - HEALTH FOUNTAIN
After fighting dozens of barbarians and ice golems, this fountain of health is a welcome sight.
5 - MYSTICAL WILL FOUNTAIN
Replenish your mystical will by walking in close vicinity of this fountain.
6 - SOUL SHARD #14
You can only reach this area after having climbed the pathway at area #3, but you'll be glad you did. Nestled behind some barrels is the fourteenth Soul Shard of the game.
7 - EXIT TO BARBARIAN FORT
If you've played your cards right and have killed nineteen ice golems, you'll find the final ice golem just outside the exit here. Take him down to complete one of the ice sorceress' quests and then drop the large, glowing ice barbarian before heading down the tunnel to the Barbarian Fort.