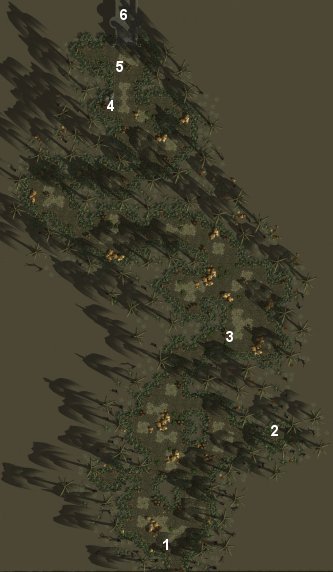 Did we miss anything in this location? Is there something we didn't discover? Let us know!
RELATED QUESTS
Go to Castle Baele
(Continued)
Locate the Rogues
(Area 4)
1 - ENTRANCE
You'll emerge from the Bulette's lair and find yourself in a swamp full of poisonous traps, so be careful on your way through.
2 - SOUL SHARD #3
Here, on a small pathway through the brush, you'll find the third Soul Shard of the game.
3 - TROLLS
Your first encounter with trolls here in the swamp will happen in this section. These are pretty difficult creatures at this point in the game, but make use of any items you have that provide fire damage and they'll go down much easier.
4 - STRANGE MERCHANT
Next to these barrels, you'll enter a cutscene with a strange gnomish merchant who will tell you that Castle Baele is filled with monsters. He'll also tell you about some rogues that reside there (new quest), and will offer to sell you some of his goods when you meet him next in the market area of the castle.
5 - EXIT
To cross the bridge to Castle Baele, you'll first have to take down a glowing troll that may pose a fairly serious threat. Hammer him with items that produce fire damage until he goes down, then continue on your way.