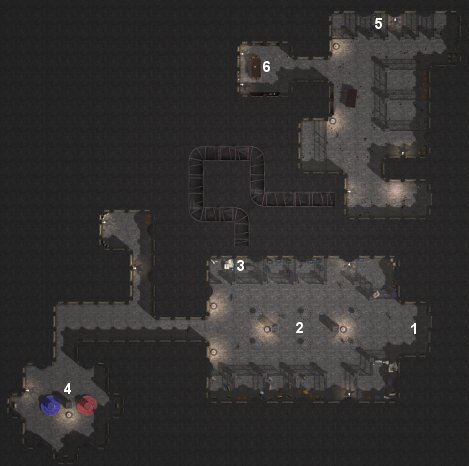 Did we miss anything in this location? Is there something we didn't discover? Let us know!
RELATED QUESTS
Find the First Sceptre
(Area 5)
Return to Rik with First Sceptre
(Area 5)
1 - ENTRANCE
The treasury is where you'll find the first sceptre for Rik back at the Castle Shoppe, but you're going to have to battle plenty of Drow to retrieve it.
2 - PEDESTALS
The pedestals here in the center of the room each contain a Raise Dead Amulet, but you'll first have to dispatch of the Drow surrounding them and use a skeleton key to unlock the bars.
3 - HIDDEN TUNNEL
Smash the crates in this small room to reveal a hidden passageway. You'll need to follow the passage to the next area in order to obtain the sceptre.
4 - FOUNTAINS
Your battles will come a little easier if you can force your enemies into this room, due to the fact that there is both a health and mystical will fountain here.
5 - FIRST SCEPTRE
Take down the Drow mage in this area to loot the first sceptre and complete Rik's initial quest. Return the sceptre to Rik, but be sure to hit up area #6 first so you can grab the Soul Shard.
6 - SOUL SHARD #4
This room provides a pretty difficult battle with Drow mages and spiders, but you'll be glad you made your way down here. Sitting on the table is the fourth Soul Shard of the game, which means you only need one more for an upgrade to your Ancestral weapon (if you found the first three).