Did we miss anything in this location? Is there something we didn't discover? Let us know!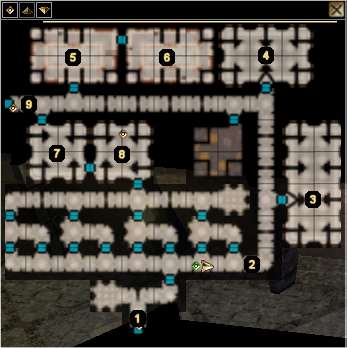 Zoo
1 - ENTRANCE FROM BLACKLAKE DISTRICT
You have to pay a gold piece to get in. I think even this early in the game a gold is easily spared. This is also the exit to the Blacklake District.
2 - LOCKED DOOR
Use the key you got from the Druid Nyatar at the City Core to open this door but once you do, you'll have made some enemies.
3 - GUARDS GALORE
Several Noble guards are protecting several chests of loot!
4 - MORE GUARDS GALORE
Fight a few more guards at this room and loot their chests afterwards.
5 - HOLY HUNTERS!
This room is teaming with Hunters... relatively tough adversaries that have ranged attack. You would do well to bait a few outside the room and fight them near a corner, preventing the mob from raining arrows into you.
6 - MONTGOMERY "SURESHOT" WEATHERSON
In this room you will have to fight the owner of the Zoo Montgomery "Supershot" Weatherson. Although he is a tough opponent show him what people like him deserve when mistreating the animals. When you defeat him he will drop a Longbow +1 and an adamantine stone. There are also several chests around to loot.
7 - SEVERAL MORE GUARDS
This time they appear to be guarding the store room.
8 - MASTER OF THE PENS
More difficult than your average guard, this is still a fairly easy fight. Once you defeat him you can throw open the lever in the room to release all the animals. You still must lead them to the great tree to escape though.
9 - EXIT TO THE GREAT TREE
Use the scroll given to you by Nyatar, to open a portal for the animals. Then head back inside and tell each animal of the portal, so they can escape. Be sure to come back out, after you have told every animal to head outside! They do not automatically take the portal. You must return to the tree and tell them to enter the portal.
For each animal you lead back to the tree you will be rewarded with 19 experience points.