Did we miss anything in this location? Is there something we didn't discover? Let us know!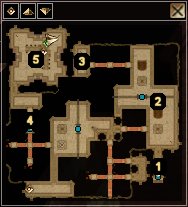 Arcane Brotherhood Tomb
1 – EXIT TO THE GRAVEYARD
The exit of the Arcane Brotherhood Tomb takes back to the Graveyard.
2 – MUMMIFIED HAND
The tomb is full of undead creatures, so be prepared. After defeating the undead in this area open the chest nearby and you will find a mummified hand. The mummified hand is actually the Quest item for Grimgnaw's story in Chapter 2. (See our
Henchmen Section
for more details)
3 – TOMB KEY
Get ready for a difficult fight here. You will have to face a Mummy and a Skeleton Chieftain including the other undead that lurk around here. When you are done with them search the containers for some random treasure. In one of the chests you will find the Tomb Key that unlocks the portcullis in area #4.
4 – ZOMBIE LORD
A Zombie Lord is trapped inside a set of portcullis that you can unlock with the Tomb key you found at area #3. Unlock the portcullis defeat the Zombie Lord and continue to area #5 to meet Brother Toras.
5 – BROTHER TORAS & TOME OF LIFE
Before you precede to the last area of the tomb, be prepared for another difficult fight. As soon as you enter this area, several undead will come after you, amongst them 2 Zombie Lords and Brother Toras himself. When you are victorious pick up the Imaskarran Tome of Life from Brother Toras' body and search the room for treasure.
Remember to return the Tome of Life to Eltoora at Port Llast and collect you reward.