Did we miss anything in this location? Is there something we didn't discover? Let us know!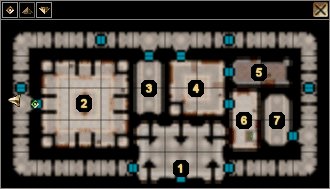 Androd Estate
1 - EXIT TO DOCKS DISTRICT
This door leads back out to the Docks District. When you first enter, you'll be faced with a couple of Androd's Noble Guards.
2 - GUARD DOGS & NOBLE GUARDS
Other than another battle with Noble Guards and some of Androd's Guard Dogs, this room is empty.
3 - STORAGE ROOM
Take out the Noble Guards in this room, and then loot the chests for some gold, gems, and/or minor magic items.
4 - ANDROD'S LIVING QUARTERS
More of Androd's Guard Dogs await you in this room. Once you've bested them, search the four chests in the room to find gold, gems, and some pretty decent magical weapons/armor.
5 - ANDROD'S STUDY
Androd's study contains four chests, a desk, a bookshelf, and a pile of books that can all be ransacked for some random loot.
6 - ANDROD'S BEDROOM
You will meet up with Androd himself in this room. When you speak with him, he will plead for his life and offer the Gaudy Statuette for Mistress Ophala (the woman you may or may not have spoken with at the Moonstone Mask in the City Core). Even if you haven't taken up Ophala's art theft quest yet, you can grab the Statuette and return it to her for a gold/experience reward. You'll find the Statuette in the cabinet behind Androd, along with a
Sickle +1
and a key that will allow you entrance into many of the locked areas of the estate. Additionally, you'll want to search the chest of drawers and the four chests inside the room for even more loot.
7 - STORAGE ROOM
This small room is home to a few more Noble Guards, as well as four more chests for you to search.