Did we miss anything in this location? Is there something we didn't discover? Let us know!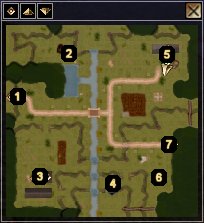 Farmlands
1 – EXIT TO THE SOUTH ROAD AREA
The road from here takes you back to the South Road area.
2 – STIRGE
Near the tree hollow you will find Stirge. Stirge is one of the escaped prisoners so be careful around him. You can either kill him or play his game of words to win the ear without killing him. Either way once you have the ear return it to Kendrack at Port Llast to collect the bounty.
3 – PETE O'DEEL
A farmer called Pete will ask for your help. A pack-leader wolf that goes by the name Silverback constantly attacks his herd of cows and Pete asks for the head of Silverback. Silverback can be found inside the cave at area #4. When you have the head of the pack leader come here and show it to Pete as proof. Pete will then reward you with 300 gold pieces and 200 experience points plus another 75 gold pieces with a successful persuade skill check. You can also convince Pete that the wolves will no longer hurt his herd if you decide to spare Silverback's life. The reward is the same though.
You will at some point have to talk with Constance, Pete's daughter, and convince her to give you back the brooch of Erik's mother. Erik can be found inside the house at area #5.
4 – SILVERBACK
Inside the cave you will have to face several wolves and eventually Silverback the pack-leader. Unlike before you will have the chance to talk to Silverback after you injure her enough. You can then convince her (with high enough persuasion skill) to stop hunting Pete's herd. However if you kill the wolf remember to bring her head but to Pete as proof.
5 – INGO AND ERIK
Erik the son of Ingo can be found inside the house. Talk to him and sooner of later he will tell you that he needs his mother's brooch back from Pete's daughter Constance. He gave it to her to prove his love but now Constance does not want him any more and Erik seeks to take the family heirloom back.
When you convince Constance to give the brooch return it to Erik and you will be rewarded with 650 gold pieces and 200 experience points plus another 100 gold pieces with a successful persuasion skill check.
6 – STANDING STONES
Neva, the one you were supposed to rescue from the bandits, can be found near these standing stones. But things aren't always as they seem. This is actually another trap from the cult and as soon as you get near the stones you will be attacked by Jaheet the woman that gave you the quest at the Green Griffon Inn, Neva and Tarran another member of the cult. When all are defeated you will find a note called letter to Neva that confirms the trap from the cult. The letter can be brought back to Lady Aribeth but it does not contain information about the location of the cult.
7 – EXIT TO CHARWOOD
From here you will enter Charwood forest and the Haunted Forest area.