Did we miss anything in this location? Is there something we didn't discover? Let us know!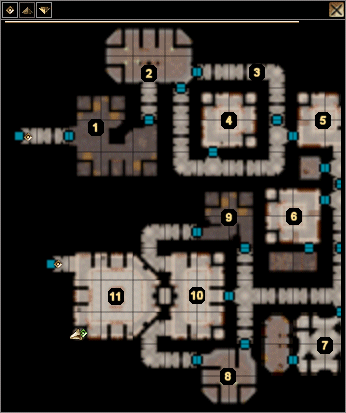 Academy Basement
1 - MYSTERIOUS MAGE
When you enter this room, you'll confront another mysterious mage, who will conjure in a couple more Weak Goblins and send them at you. Once you've dispatched of them, search the chest in the northeast corner to find a magical item suitable to your class (such as a
Ring of Fortitude +1
or
Boots of Reflexes +1
). In addition to the magic item, you can find three
Potions of Cure Light Wounds
in another chest along the east wall.
2 - PAVEL
Here you'll meet up with Pavel again, the man who you first spoke with at the beginning of them. He will tell you that the Goblins killed his brother Bim and then offer to join up as your henchman. I'd recommend allowing him to join up so that you can get a feel for how henchmen work, then search the pile of books in the southwest corner for another random tome and the desk on the east wall for some gold.
3 - TOUGH GOBLIN
This hallway is patrolled by a Tough Goblin, who (as you guessed) is a bit tougher than the Weak Goblins you've been fighting. Fortunately, the little guy drops a
Wand of Fire
to make the battle worthwhile.
4 - CHESTS O'PLENTY
There are three unguarded chests in this room, so be sure to stop by to ransack them for a few random trinkets and/or gold.
5 - GELDAR
If all has went well so far, you should have enough experience for your character to reach level two. Talk with Geldar in this room and he will explain how to do the leveling up process. If you've already figured out how to increase your level, then Geldar has nothing more to teach you.
6 - MORE GOBLINS
A few more Goblins inhabit this room. Take them out, then search the crates in the southwest corner of the room to find some random trinkets and/or gold. Don't forget to pay a visit to the small storage area to the south to search two more chests and two more crates for some more treasure.
7 - SKELETONS, GOBLINS, AND A CORPSE
As soon as you enter this room, you will be attacked by a small band of Skeletons and Goblins. Once defeated, be sure to search the corpse near the podium to find a random piece of magical armor and the chest behind him to find four Wizard scrolls. The western room holds both a bookshelf and a chest that can be searched for some minor treasure and a random tome.
8 - ALCHEMIST LAB
A few more Skeletons charge you when you enter this room, but it shouldn't be anything you can't handle. Destroy them, then search the Alchemist's Apparatus along the south wall to nab yourself a couple of Potions.
9 - STORAGE ROOM
This storage room will be inhabited by yet another group of Goblins. Take them out, then search the two chests in the room for some minor treasure and/or gold.
10 - EMPTY ROOM
The only thing worth mentioning in this room is a chest that can be searched to find some minor treasure or gold.
11 - MYSTERIOUS MAGE AGAIN
You'll confront another one of the mysterious mages in this room (along with some Goblins and Skeletons), but this time you'll actually get to fight him to the death. Grab the
Wand of Sleep
he drops, then search the three crates on the west wall for some minor treasure and/or gold.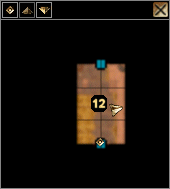 Stables
12 - STABLES
When you reach the stables, you'll witness two men (Fenthick & Desther) battling a few Weak Goblins and a Goblin Elite. Towards the center of the room are three Waterdhavian creatures - a Dryad, Intellect Devourer, and Yuan-ti - who will escape into the city during the battle. Once you realize what is happening, feel free to help Fenthick and his counterpart take down the Goblin Elite and then talk with them. Desther will leave shortly thereafter and Fenthick will ask for your help in finding the Waterdhavian creatures. He will request that you meet with Lady Aribeth at the Halls of Justice in one week, then leave. As soon as you exit the stables, the prelude will be over and you will begin Chapter One.