Did we miss anything in this location? Is there something we didn't discover? Let us know!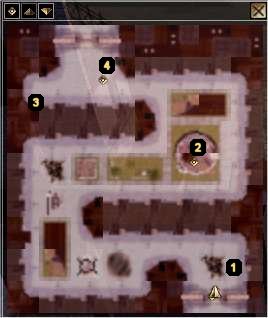 No Man's Land
1 - ENTRANCE FROM CITY CORE
Talk to Cendran, who will tell you about Loxar the half-orc. Loxar has been looting and killing amidst the chaos caused by the plague. You can accept the quest to rid the area of Loxar. Loxar can be found inside the ruined Tower at area #2.
Returning the head back to Cendran will result in a reward of 100 experience points and 3 alignment points towards good.
2 - RUINED TOWER
You'll find this to be Loxar's hideout. Once you have dispatched of this orc blooded thug, grab his head and return to Cendran. Loxar will also drop an adamantine stone along with some other random loot.
Overall this is a very small area. Apparently Loxar was much better at killing than looting. Be sure to check all the nooks and crannies to pad your adventuring fund.
3 - A STRANGE SILVER RING
Inside this house you will find a few diseased thugs. When they are defeated search the desk nearby and you will find a strange looking silver ring. The ring is somewhat different from the normal ones and it is actually the quest item for Grimgnaw in this Chapter. Check out our Henchmen section for more information.
4 - EXIT TO BLACKLAKE DISTRICT
Use the gate here to get to the Blacklake District.