Did we miss anything in this location? Is there something we didn't discover? Let us know!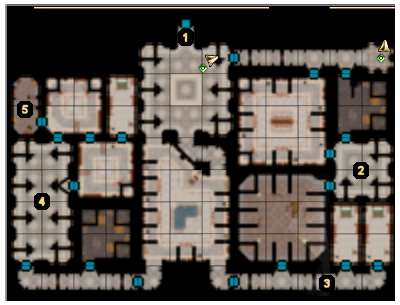 Hodge Estate
1 - ENTRANCE FROM BLACKLAKE DISTRICT
The door from here will take you back to the Blacklake District.
2 - COOK'S ROOM
The cook keeps odd company, a Crag cat and a Cougar. The cook himself is not aggressive and certainly not polite. Talking to him doesn't garner much information other than Master Hodge has already fled and has taken the master key with him. So you will have to unlock the doors and containers around the estate manually.
3 - TRAPS!
There are several traps in this hallway, be careful as some are quite powerful.
4 - GUARDS GALORE
A large group of Noble Guards protect this room. Dispatched and loot their chests afterwards.
5 - GILDED URN
At last, the whole reason you came here. This room houses the Gilded Urn, a piece of artwork needed for the quest given at the Moonstone Mask. There is also a note addressing Ophala along with a Club +1. Apparently Hodge was not very pleased for having to leave his estate.