Did we miss anything in this location? Is there something we didn't discover? Let us know!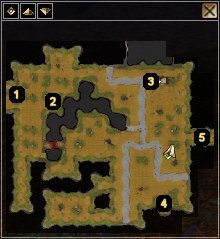 Deep Woods
1 – EXIT TO THE DRUID ENCAMPMENT
From here you can get back to the Druid Encampment area.
2 – HOSTILE DRYAD
Here you will feel a taste of the hostility of the entire forest. A dryad will attack you as soon as you get near to her and to her tree, but she will talk to you after you beat her for a while. She will say that she can't control her mind anymore and that the Spirit is forcing her to attack anyone that enters the forest. Don't talk with her for too long however, because she will lose control again and attack you once more. Then you will have to kill her rather that save her which is actually your purpose, to save the forest and restore the Spirit of the Woods.
3 – ENTRANCE TO THE NYMPH'S HOUSE
The entrance to the Nymph's House is thought the tree. Inside you will find one of the missing Druids along with some other interesting stuff.
4 – CAVE ENTRANCE
There is a small cave entrance here. Not much to do inside but you will find another one of the missing druids. (NOTE: See areas #6-7)
5 – EXIT TO THE HEART OF THE FOREST
Continue deeper into the Neverwinter Wood and to the Heart of the Forest from this area.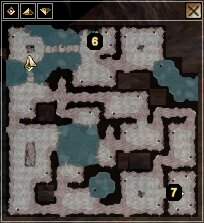 Small Cave
6 – EXIT TO DEEP WOODS
You access this cave from area #4. Once inside you will have to fight several spiders and ettercaps so be careful. In the cave you will also find one of the missing Druids in area #7. You can use the exit here to get back to the Deep Woods area.
7 – FEEDING ROOM
A Queen Spider has to be fought here as soon as you enter the room. When you defeat her search the spider cocoons nearly and you will find out that Orlane, one of the missing Druids, is trapped in one of cocoons. Touching the cocoons is only needed to release him. After freeing the Druid talk with him to fill you in on what he has discovered until he was caught and then instruct him to return to his groove. You will be rewarded with 62 experience points for doing so.