Did we miss anything in this location? Is there something we didn't discover? Let us know!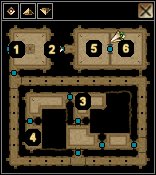 Creator Ruins Level 3
1 – EXIT TO CREATOR RUINS LEVEL 2
The exit from here can get you back to level 2 of the Creator Ruins.
2 – SEAL GUARDIAN GOLEM
Once again a Golem guards the seal for this level. However this time the golem is hostile and will attack you as soon as you get near. Defeating the golem though is not enough to open the seal. You will still need to find the proper key to unlock the seal before you can continue. The Seal key is located on a thief's body in area #3. Apparently the thief stole the key from the golem which is probably the reason that the Golem was hostile.
3 – SEAL KEY
On the thief's body in this small room you will find the Seal key you need to open the Seal in area #2. There is also a note from the thief that mentions something about some magical treasures that can be found in this level.
4 – MAGIC TREASURES
The room here is full of treasure but before you get it you will have to fight a Helm Horror and a few Minogons. When you defeat them loot the room for some magical items and other useful goodies. You will also find two History Scrolls that give some information about the Creator Race, however the scrolls are not enough proof to return to Jax and you have to keep looking for more.
5 – CREATOR SORCERERS
When you pass the seal gate at area #2, be prepared to meet with some strange members of the Creator Race. As soon as you enter this area you will be attacked by three Creator Sorcerers before you are given any chance to speak with them. When defeated proceed to area #6 which is the last area of the Creator Ruins and hopefully you will also be able to learn about this so called Creator Race.
6 – COMPLETE HISTORY OF THE CREATOR RUINS TOME
As in area #5 as soon as you get to the last room a Creator Sorcerer will be waiting for you and attack you when you get near. This one however will talk to you when you severely injure him and explain many things concerning his race. No matter what you say to him though he will eventually find the strength to attack you once more after you talked with him for a while. When the sorcerer is defeated, search the room for some random magic items and treasure. In one of the chest you will also find the Complete History of the Creator Ruins Tome which is actually the kind of proof Jax needs. There is also a pressure plate that takes you back to surface and to the East Road Area. Don't forget to pay another visit to Jax when you are done with the Creator Ruins to collect your reward.