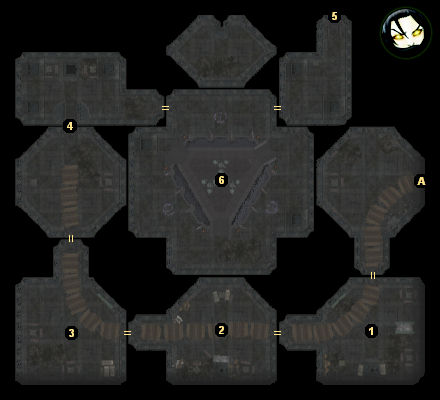 Did we miss anything in this section? Is there something we didn't discover? Let us know!
Walkthrough
Coveya Kurg'annis is the home of the Slumbering Coven (#6). If you enter through the front door (Exit A), then you'll be able to convince people to give up their place in line, but you'll be stopped at the last door (#4), and you'll be banished to the Skein. When you return (at #5), you'll have to pass through some prisons and dream sequences (see #6), but eventually the Coven will answer your questions, and you'll be able to leave.
1 - Gawatha the Ogre
You'll meet Gawatha the ogre here. He'll have a boy named Kepob with him. If you talk to Gawatha, then you'll learn that he's here because he believes the boy is valuable, but if you buy the boy from him (you can get the price down to 20,000 gold pieces) then he'll leave. Kepob isn't actually valuable (maybe something was planned for him in the campaign, but if so it didn't make it into the final release), and he'll mostly just get himself killed because he only has a few hit points, and he won't stay out of combat like Kaji does. The only place you can use Kepob is as a snack for the uthraki next door (#2). Other than that, if you can somehow keep him alive, then he'll just run off at some point, and you won't receive anything for rescuing him.
You can also just attack Gawatha. For that case you'll earn about 1000 experience points, and you'll find a suit of
Thasunta Hide
.
2 - Vlooshk the Uthraki
If you spared Okku at the end of Act One, then no matter what you say here, the uthraki will attack you, and you'll find a
Dented Platter
on Vlooshk's remains.
If you devoured Okku's spirit, then the uthraki will agree to leave if you give them something to eat. A variety of things will work here, including Kepob (#1), the
Mysterious Meat
from Gruff outside, and even a bite from one of your companions. You can also just attack the uthraki if you'd like. Either way you'll get a
Dented Platter
from them.
3 - Ankhriva the Vampire
It doesn't appear possible to beat the initial diplomacy check with Ankhriva the vampire (we failed it with 57 diplomacy), and so to get him to leave his place in line you'll have to fight him. If you have One of Many in your party, then you can use him to scare off some of Ankhriva's minions to make the battle easier. You'll get about 1000 experience points for the battle, and you'll find a
Wand of Eternal Decay
on Ankhriva's corpse.
Note: Using One of Many in the conversation with Ankhriva will boost your influence with him, but it will also cause you to lose some experience when the minions run away. To keep that experience, park somebody in the doorway to the room. Then the minions won't be able to leave, and you'll still be able to kill them.
4 - Locked Door
If you haven't been to the
Skein
yet, then when you reach this door you'll find a woman named "Mistress" guarding it. From what we can tell, there isn't any way to talk your way past her, and she'll always banish you to the
Skein
. This door will unlock after you've met with the Coven (#6).
5 - Door from the Skein
This is where you'll appear when you enter Coveya Kurg'annis from the
Skein
, but the door here will close and lock behind you, preventing you from going back.
6 - Chamber of Dreamers
The Chamber of Dreamers is the home of the Slumbering Coven. When you first arrive here, you'll be attacked by the Mistress and some hagspawn guards. They'll drop Dread Wraps and some gold when they die.
As for the Slumbering Coven, they'll be... slumbering, as expected. To talk to them, you'll have to enter their dream, but when you do, you'll be transported to a dream version of the Veil Theater. There you'll have to participate in the final act of a play about the Betrayer's Crusade. It won't matter what you say. The audience will end up attacking you, and afterwards you'll need to talk to the actors and then go through the portal at the theater's entrance.
Past the portal you'll end up at a dream version of the Chamber of Dreamers. The Coven won't be there, but you'll see three prisoners: a human bard, a human wizard, and a mindflayer. You might remember this same trio from the original Chamber of Dreamers, but whereas in that version nothing would really happen if you clicked on them, here if you click on them you'll be transported to their prison.
Each of the prisons has a small puzzle associated with it, but you'll only need figure out one or two of them to reach the Coven.
Human Bard. You'll find yourself in a tavern with a bard named Durler. Durler will tell you about this game he's invented called Hells, which works exactly like Mastermind. You'll have to beat Durler enough times so that he runs out of money (which means at least three times), and if you do that then he'll leave and you'll earn 5000 experience points.

Note: If you have Gann in your party, then he'll conjure up some gold for you to play with.

If you're not any good at Mastermind, then you might try searching the Internet for a Mastermind solver (they're out there). You could also start with the following four moves: "1122," "3344," "5566," and "7788." From these you should have a pretty good idea about which numbers (hells) are involved, and where they're located in the answer.


Human Wizard. In this prison you'll meet a wizard named Windelhelm and a devil named Enzibur. Windelhelm will tell you that the devil claims to own his soul, and that while he signed a contract with the devil, his soul wasn't a part of it. To settle the matter, you'll just need to read the contract and then exhaust all of the dialogue options with Windelhelm and Enzibur. You won't need any lore or intelligence or anything like that; you'll just need to be patient. Eventually you'll discover that Enzibur interpreted something that Windelhelm said in a way that Windelhelm didn't mean, and that Windelhelm shouldn't have to give up his soul. When you relay this information to Windelhelm, you'll receive 2500 experience points and a Dream Dagger.


Mindflayer. In this prison you'll meet Gud-bugh-ach the mindflayer. If you tell him that you're there to slay him, then you'll have to chase him around for a bit, but eventually he'll turn aggressive, and you'll be able to kill him. If instead you tell him that you're there to rescue him, then he'll begin following you, and you'll have to lead him through a 4x4 grid of rooms while avoiding a githyanki mindslayer. The githyanki won't be hunting you -- it'll just be moving around randomly -- and so it should be relatively easy to avoid. Regardless of how you decide to deal with the mindflayer, you'll receive 2500 experience points.
After freeing the first prisoner, you'll encounter another portal, and through this one you'll find yourself in a dream version of the Death God's Vault. There you'll meet Araman, who is both Akachi's brother and the man who usurped the Red Wizard Academy. Shortly after you meet him, a Red Woman will confront him, and you'll have to choose a side. Whichever person you don't choose will then attack you (with some help), and after the battle you'll be able to return to the Chamber of Dreamers.
This time in the Chamber of Dreamers, you'll find two prisoners and a perhaps a portal. Every time we play through this sequence, the portal behaves differently. We suspect that the portal is only supposed to appear after you've freed a prisoner, but it often appears "early," allowing you to skip prisoners if you want. The prisons are kind of fun, at least the first time through them, so you might want to visit them even if you don't have to.
When you go through the final portal you'll find yourself at a dream version of the Wall of the Faithless. You'll meet Bishop there, and Bishop will claim that he's seen you in the Wall, too. "You're a mask. Nothing but a mask." Then a pit fiend and a horned devil will attack you, and, after defeating them, when you return to Bishop you'll discover that he's been swallowed almost entirely by the Wall -- except for his hand, where you'll notice something. If you pry the item from him, then you'll receive a
Mask Fragment (Wall of the Faithless)
. Then a portal will appear, allowing you to return to the Chamber of the Dreamers.
Note: You might notice that Bishop doesn't sound right. If you have a high enough wisdom, then you'll be able to ask him about this, but you won't get a good answer.
When you return to the Chamber of Dreams, you'll find all nine members of the Slumbering Coven snoring away -- complete with sound effects. But this time when you click on one, they'll talk to you, and, among other things, they'll show you what happened when the Red Lady (Nefris, Safiya's mother) and Lienna visited them some time ago. You'll see that the pair asked if there was a cure for spirit-eating, and that the Coven told them that they'd have to seek the dead god Myrkul for an answer. The Coven will then direct you to go to the Red Wizard Academy to find out if the pair was successful, and they'll tell you that the Fourth Door in the Shadow Theater can take you there, now that you know that the Academy is a valid destination. You'll also receive 7500 experience points at the end of this conversation.
At this point you can leave the Coven in peace if you want, or you can attack it. If you attack the Coven, then your companions will re-join you for the fight. The main reason to attack the Coven is to pick up some
Slumbering Coven Essences
. Acquiring five of these essences will allow you to craft the Eyes of the Coven, a pretty good mask for spellcasters, but of course, devouring five souls in one battle can be tough.
If you plan to fight the Coven for their essences, then the first thing you should do is put your party into puppet mode. The Coven members are all spellcasters with around 150 hit points each, and so a few stray hits here and there can be devastating. Then you should access the spellbooks of your spellcasters and have them memorize as many Flesh to Stone spells as possible.
When the battle starts up, most of your party shouldn't do anything, but your spellcasters should go nuts with Flesh to Stone and statue-ize as many Coven members as possible. The Flesh to Stone spell won't always work, but as long as you can turn 2-3 Coven members into stone, then you can proceed with the battle in two stages. In the first stage you should use one of your characters to knock a couple of Coven members down to "near death" and then use Spirit Gorge to claim their essences (you'll probably need to unequip that character's weapon to prevent it from going too much damage). In the second stage you should kill some of the Coven members, but then keep one or two alive as you knock down the health of the stoned members, and eventually gorge on everybody remaining. You can try doing the battle in one stage, but it can be a little cramped and chaotic, and the Coven members will keep healing themselves, making life difficult.
Regardless, if you kill the Coven, then all of the hagspawn guards, both inside and outside Coveya Kurg'annis, will turn hostile. Omaga the merchant (in Nightshore) will also attack you on sight, but that's not so bad since he'll drop a
Shield of the Magi
when he dies.
Exits:
Shadow portal to Nightshore.
World exit.