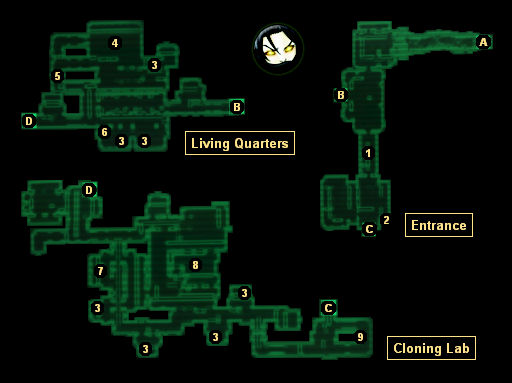 Did we miss anything in this section? Is there something we didn't discover? Let us know!
Overview
1 - Gary 42
You'll find the corpse of Gary 42 here. He's just a sign of things to come.
2 - Crates
Behind the crates you'll find a stepladder with a
Nuka-Cola Quantum
on top of it. Under the ladder, just visible from the right angle, you might notice a copy of
Tumblers Today
. However, the only way to get the skill book (without cheating) is to blow it into a more favorable position. To do that, you'll need to place a few mines on the other side of the wall (next to Exit C) and then blow them up with a grenade. The resulting concussion might move the skill book to where you can get it -- or it might not, so save first.
3 - Beds
You'll find beds that you can sleep on all throughout the vault.
4 - Cafeteria (Lower Level)
You'll find a copy of
Pugilism Illustrated
on the counter here.
5 - Staircase
You can use the staircase to move between the upper and lower levels of the Living Quarters.
6 - Safe (Upper Level)
You'll have to pick an "easy" lock to get the safe open.
7 - Lab
Inside this lab you'll find a safe and a "Cloning Log" holotape.
8 - Main Lab
Inside this lab you'll find several beds, plus a copy of
Lying, Congressional Style
and the
Bobblehead - Charisma
doll.
9 - Shelves
You'll find a pair of ammunition boxes in these shelves.
Exits:
Exit to the wasteland.
Doorway between the Entrance and the Living Quarters.
Doorway between the Entrance and the Cloning Lab.
Doorway between the Living Quarters and the Cloning Lab.