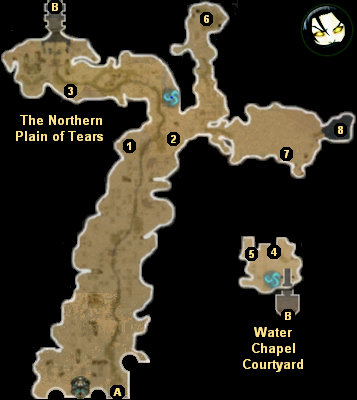 Did we miss anything on this map? Is there something we didn't discover? Let us know!
1 - Elevator
The elevator leads to some Crumbling Ruins. Inside the ruins, you'll meet Prospector Gareth, who is involved in the secondary quest
Lelani's Sorrow
. Also, in the southern part of the ruins, you should notice a button. Pressing the button will reveal a secret room. Inside the secret room, you'll find a lectern with the
greater chant of purity
(Chant 56) on it.
2 - Tower
You can find a few containers to loot inside and at the top of the tower.
3 - Health Shrine
4 - Button
Pressing this button will turn
Kalrathia
's water supply back on. See the primary quest
Restore Kalrathia's Water
for details.
5 - Lever
When you pull the lever, a treasure chest will rise up out of the ground.
6 - Khartos' Rift Site
The rift site is involved in the
Mythrilhorn
secondary quest.
7 - Tower
Inside the tower, you'll find an elevator leading down to a Mysterious Vault. The vault is covered in the secondary quest
The Lost Jewels of Soranith
.
8 - A Magical Oasis
Inside the oasis, you'll find a locked door that can only be opened during
Deru's Treasure Hunt
, plus a lectern containing the
chant of health
(Chant 53).
Exits:
Northern gate of Kalrathia.
Water Chapel tunnel. The tunnel connects the Northern Plain of Tears to the Water Chapel Courtyard.