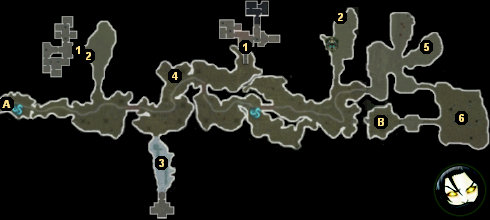 Did we miss anything on this map? Is there something we didn't discover? Let us know!
1 - Password Doors
At both doors, a Vai'kesh behind the door will ask you a question. You won't learn the answer that will allow you to pass through the door until you've picked up the secondary quest
Evangeline's Folly
.
Note: In the stronghold beyond the eastern password door, you'll find a sanctuary door that requires a character with Melee 24.
2 - Big Chests
You'll likely find something good inside these two chests.
3 - A Frozen Vai'kesh Cave
The cave is involved in the secondary quest
Deru's Treasure Hunt
.
4 - Tree Home
If you press the button on the inside wall of the home, a chest will rise up out of the ground.
5 - Spirit
The spirit is involved in the quest
Spirits of Aranna
.
6 - Vai'kesh Grotto
You'll have to fight a Knotted Shambler here at the end of the primary quest
The Vai'kesh and the Aegis of Death
. Once you've completed the quest, you'll be allowed to use the portal at Exit B.
Exits:
Path to the Vai'kesh Forest.
Portal to the Garden of the Ancients.