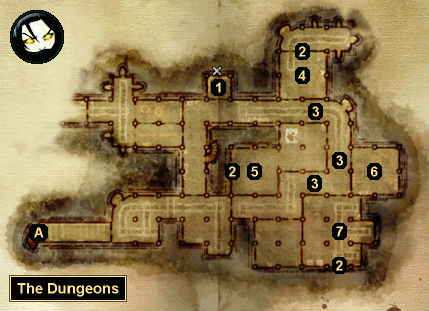 Did we miss anything in this section? Is there something we didn't discover? Let us know!
Walkthrough
"Betrayed, beaten, I knew the rules had changed. Or perhaps Marjolaine had played a different game from the start."
When you wake up in your cell (#1), you'll hear a voice coming to you from above. The woman won't tell you who she is, but she'll try to build up your confidence -- "others need you, even at your lowest" -- and she'll toss you down a small rucksack. Inside the rucksack you'll find a
Pelerine Slip-Knife
and your cell key.
As you explore the dungeons, you'll have to turn three cranks (#2) to open up three grates (#3), and you'll also need to reconnect with your companions and your gear (#4). Unfortunately, you'll find that you're too late to save Tug (#5), but you'll meet up with another sword-and-shield warrior named Silas to take his place.
When you escape from the dungeons (via Exit A), you'll arrive in the
Chantry
, where you'll meet the woman who spoke to you.
1 - Your Cell
2 - Cranks
3 - Grates
4 - Sketch, Silas, and Your Gear
Sketch and Silas will join you when you enter the room. You'll find your gear in a footlocker in the back.
5 - Tug's Remains
Near Tug's body, you'll find a weapon rack containing a few weapons, including the gift version of
Tug's Edge
. If you give this gift to Silas, then it will transform into the weapon version of
Tug's Edge
, and you'll complete the quest "Honoring Tug," which will net you 3000 xp.
6 - Barracks
If you loot the containers in here, then you'll find a
Knight-Commander's Shield
, a
Masterwork Leather Piece
, and more. You'll need six
Masterwork Leather Pieces
for the quest
Orlesian Battledress
.
7 - Prisoners
You'll meet three prisoners here, who will eventually escape from the dungeons thanks to your kindness. You'll also find a footlocker in the room that will give you some more gear for Silas. "I will teach my children of humans like you. You're a light in this dark place."
Exits:
Dungeons exit.