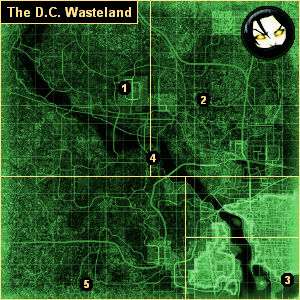 Did we miss anything in this section? Is there something we didn't discover? Let us know!
Background
When you approach
Paradise Falls
(#1), you'll be stopped by Grouse. If you're not evil enough or rich enough to just walk into the slaver city, then Grouse will give you this quest to prove your mettle.
Walkthrough
Grouse will give you a list of four "assets" that Eulogy Jones (the boss of
Paradise Falls
) would like to see captured. He'll also give you a
Mesmetron
, 50
Mesmetron Power Cells
, and a
Slave Collar
, and he'll explain how to use them -- just zap the future slave with the
Mesmetron
, and then talk to him to convince him to put on the collar. Once the slave is shackled, he'll travel on his own to
Paradise Falls
, and you'll then just need to return to Grouse to collect your reward (250 caps) plus a new
Slave Collar
.
The four targets are listed below:
Capturing any one of the four targets will gain you admittance into
Paradise Falls
(#1). Capturing all four will complete the quest and earn you 300 experience points.
After completing the quest, you can continue to use the
Mesmetron
to capture slaves for Grouse. Each new slave that you bring in will net you 250 caps, just like before, but random targets won't respond as well to the
Mesmetron
as the "VIP" targets from the quest did. Most random targets will just attack you when you try to zap them, and sometimes their heads will explode. If you run out of ammunition, you can always buy 10 more
Mesmetron Power Cells
from Grouse for 200 caps.
1 - Paradise Falls
2 - Minefield
3 - Rivet City
4 - Big Town
5 - Tenpenny Tower