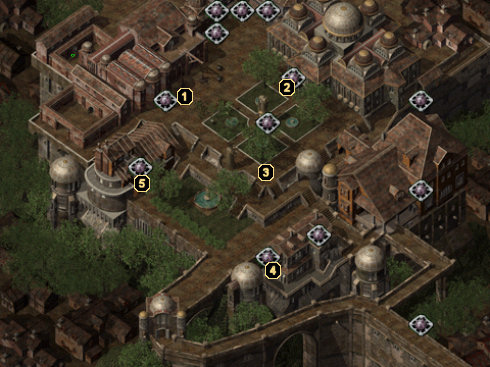 Did we miss anything on this map? Is there something we didn't discover? Let us know!
1 - Viconia
Here you'll witness a group of Athkatla citizens attempting to burn a Drow woman to the stake. Upon closer inspection, you'll realize it is Viconia (one of the companions from the original Baldur's Gate) and will be able to release her if you'd like. If you cut her down, you'll have to fight off a few of the citizens, but the battle is pretty easy. Viconia will then offer to join your party.
2 - Council of Six
This building is the Council of Six, where the authorities of Athkatla reside. There are a few things you can do here, with the most important probably being the quest involving Valygar. If you talk to Tolgerias (one of the wizards just inside), he will tell you that Valygar is wanted by the Cowled Wizards, dead or alive, and will offer you a reward for bringing him here. If you choose to bring Valygar back, but refuse to give him up, Tolgerias will storm off, although you'll meet up with him again at the Planar Sphere.
Another quest you can complete here involves the artist at area #4. If you accept the sculpture quest (which is begun from any of the various temples in the
Temple District
), you will be told by the artist at area #4 that you'll need Illithium before he will accept and produce the sculpture. Head to
Waukeen's Promenade
and talk with the ore merchant there. Get as much information there as you can, and then head to the
Copper Coronet
and talk with the Duergar dwarf over by Bernard. He will tell you about Neb, a little scoundrel that stole his Illithium and resides in the
Bridge District
. Kill Neb and bring his head back here for a reward (additionally, you'll get the Illithium that you need for area #4).
Finally, you can purchase yourself a license here for 5000 gold pieces that will allow you to legally use magic within city limits. What a deal!
3 - Jan Jansen
Another potential companion by the name of Jan Jansen will approach you here, attempting to sell you some wares. He'll be approached by some authorities and accused of breaking some tax-related laws. If you side with Jan and cover for him, the authorities will let him go and Jan will offer to join.
4 - Jysstev Estate
The Jysstev Estate resides here, which is where you'll find the artist mentioned in area #2. Again, you can commission him to build a sculpture for one of the temples in the
Temple District
, but you'll need to get him some Illithium. Once you bring the ore back, he will agree to create a sculpture and you'll get some nice experience. Alternatively, you can choose to use the Illithium to construct
the enhanced Mace of Disruption
at Cromwell's in the
Docks District
.
If you decide to keep the Illithium for yourself, you'll need to give the sculptor the cheap alloy rather than the pure Illithium. He will notice that you ripped him off and storm out, but when you return to the
Temple District
, the head priest thinks that the chunk of alloy is supposed to be the armor on the statue and praises you. You won't get as much experience, but you will end up with
the enhanced Mace of Disruption
, so it is probably worth the loss.
The Jysstev Estate is also of importance during Jan Jansen's quest to find a cure for the daughter of his former girlfriend. If you talk to Lady Jysstev, you will be able to find out who "The Hidden" is and continue with the quest.
5 - Keldorn's Home
This is Keldorn's home. If you have Keldorn in your party, he will ask that you visit here to see his family. Upon your initial visit, you'll learn that Keldorn's wife is seeing another man and is currently at the Den of the Seven Vales in
Waukeen's Promenade
.
Keldorn will angrily ask that you help him pay a visit to the man, but when you do, he will make Keldorn realize that his wife was just lonely and that his being gone all the time drove her to another man. So... when you return, Keldorn and his wife will resolve their differences and he will ask if he may stay here with her. You can either ask that he continue in your quest to find Imoen or let him stay. If you do let him stay, you can return here to pick him up if you decide to add him to your party once again.