Did we miss anything in this location? Is there something we didn't discover? Let us know!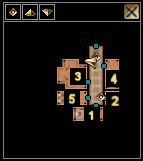 Yawning Portal - Upstairs
1 - BEGINNING
You wake up in this room to find a Drow thief trying to steal your belongings. Although you eventually kill her, she succeeds in spiriting your trunk away, leaving you with a dagger, a rogue stone, a teleportation device, and a copy of Deekin's book somehow stashed in your briefs. The innkeeper's daughter comes in afterward to find out what the ruckus was about and will give you a brief overview of the situation as well as offering you the use of any of her father's equipment. You can hit on her if you like, but it won't go anywhere.
2 - ARMORY
The armory isn't that bad, despite what you've been told by the innkeeper's daughter. There are a few magically enchanted items in addition to standard weaponry.
3 - COMMON ROOM
An old adventurer named Tanarell will give you tips on surviving the Undermountain (be nice to him and you can get 200 xp). A monk named Cyphus will tell you a little about the assassinations and the innkeeper, Durnan, who has apparently organized an expedition into the Undermountain.
4 - LOCKED ROOM
This room contains a magic vestment spell and a fire opal.
5 - LOCKED ROOM 2
This room has some thieves tools and some gold.